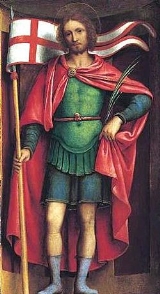 Alexander of Bergamo
Saint Alexander of Bergamo
(died c. 303) is the
patron saint
Patron saint
A patron saint is a saint who is regarded as the intercessor and advocate in heaven of a nation, place, craft, activity, class, clan, family, or person...
of
Bergamo
Bergamo
Bergamo is a town and comune in Lombardy, Italy, about 40 km northeast of Milan. The comune is home to over 120,000 inhabitants. It is served by the Orio al Serio Airport, which also serves the Province of Bergamo, and to a lesser extent the metropolitan area of Milan...
. Alexander may simply have been a
Roman
Roman Empire
The Roman Empire was the post-Republican period of the ancient Roman civilization, characterised by an autocratic form of government and large territorial holdings in Europe and around the Mediterranean....
soldier or resident of Bergamo who was tortured and killed for not renouncing his
Christian
Early Christianity
Early Christianity is generally considered as Christianity before 325. The New Testament's Book of Acts and Epistle to the Galatians records that the first Christian community was centered in Jerusalem and its leaders included James, Peter and John....
faith. Details of his life are uncertain, but subsequent Christian legends consider him a
centurion
Centurion
A centurion was a professional officer of the Roman army .Centurion may also refer to:-Military:* Centurion tank, British battle tank* HMS Centurion, name of several ships and a shore base of the British Royal Navy...
of the
Theban Legion
Theban Legion
The Theban Legion figures in Christian hagiography as an entire Roman legion — of "six thousand six hundred and sixty-six men" — who had converted en masse to Christianity and were martyred together, in 286, according to the hagiographies of Saint Maurice, the chief among the Legion's...
commanded by
Saint Maurice
Saint Maurice
Saint Maurice was the leader of the legendary Roman Theban Legion in the 3rd century, and one of the favorite and most widely venerated saints of that group. He was the patron saint of several professions, locales, and kingdoms...
. He was a survivor of the
decimation
Decimation (Roman Army)
Decimation |ten]]") was a form of military discipline used by officers in the Roman Army to punish mutinous or cowardly soldiers. The word decimation is derived from Latin meaning "removal of a tenth".-Procedure:...
, that is, the killing of every tenth man. He escaped to
Milan
Milan
Milan is the second-largest city in Italy and the capital city of the region of Lombardy and of the province of Milan. The city proper has a population of about 1.3 million, while its urban area, roughly coinciding with its administrative province and the bordering Province of Monza and Brianza ,...
.
At Milan, he was recognized and imprisoned, and it was demanded that he renounce his Christian faith. However, he was visited in jail by
Saint Fidelis
Fidelis of Como
-Legends:Fidelis' cult is associated with Carpophorus and Exanthus, two soldier-saints. Variations on their legend are applied to Fidelis. The first says that he, with Carpophorus and Exanthus, were Roman soldiers, members of the legendary Theban Legion, who deserted during the persecution of...
and Bishop Saint
Maternus
Maternus
Maternus, also known as Maternus II or St. Maternus, was the first known bishop of Cologne, Germany, c. 285-315. He founded a church on the site of a Roman temple which later became Cologne Cathedral.-Legend:...
. Fidelis managed to organize Alexander's escape. Alexander fled to
Como
Como
Como is a city and comune in Lombardy, Italy.It is the administrative capital of the Province of Como....
but was captured again.
Brought back to Milan, he was once more condemned to death by
decapitation
Decapitation
Decapitation is the separation of the head from the body. Beheading typically refers to the act of intentional decapitation, e.g., as a means of murder or execution; it may be accomplished, for example, with an axe, sword, knife, wire, or by other more sophisticated means such as a guillotine...
, but during the execution the executioner's arms went stiff. He was imprisoned again, but Alexander once again managed to escape, and ended up in Bergamo after passing through
Fara Gera d'Adda
Fara Gera d'Adda
Fara Gera d'Adda is a comune in the Province of Bergamo in the Italian region of Lombardy, located about 30 km northeast of Milan and about 20 km southwest of Bergamo...
and
Capriate San Gervasio
Capriate San Gervasio
Capriate San Gervasio is a comune in the province of Bergamo, in Lombardy, Italy.It is situated on the southern tip of the so-called Bergamasca Island, a territory delimited by the rivers Adda and Brembo. It includes three frazioni at slightly different altitudes, San Gervasio d'Adda , Capriate...
. At Bergamo, he was the guest of the lord Crotacius, who bid him to hide from his persecutors. However, Alexander decided to become a preacher instead and converted many natives of Bergamo, including Firmus and Rusticus, who were later martyred. Alexander was once again captured and was finally decapitated on August 26, 303, on the spot now occupied by the church of San Alessandro in Colonna.
Veneration
Bergamo Cathedral is dedicated to him and dates from the 4th century, and he is one of the saints in the dedication of
the church in Rome for natives of Bergamo
Santi Bartolomeo ed Alessandro dei Bergamaschi
Santi Bartolomeo ed Alessandro dei Bergamaschi is a little church in Piazza Colonna in Rome, Italy, next to Palazzo Wedekind. Originally it was named Santa Maria della Pietà, from the high relief over the door...
.
External links
Sant' Alessandro di Bergamo