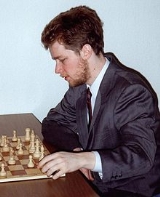 Alexander Khalifman
Alexander Valeryevich Khalifman
(born January 18, 1966, in
Leningrad
Saint Petersburg
Saint Petersburg is a city and a federal subject of Russia located on the Neva River at the head of the Gulf of Finland on the Baltic Sea...
) is a Soviet and Russian
chess
Chess
Chess is a two-player board game played on a chessboard, a square-checkered board with 64 squares arranged in an eight-by-eight grid. It is one of the world's most popular games, played by millions of people worldwide at home, in clubs, online, by correspondence, and in tournaments.Each player...
Grandmaster of Jewish descent; he is also a former
FIDE champion
World Chess Championship
The World Chess Championship is played to determine the World Champion in the board game chess. Men and women of any age are eligible to contest this title....
.
When Khalifman was 6 years old, he was taught chess by his father.
He gained the Grandmaster title in 1990 with one particularly good early result being his first place in the 1990 New York Open ahead of a host of strong players.
His most notable achievement was winning the
FIDE World Chess Championship
FIDE World Chess Championship 1999
The FIDE World Chess Championship 1999 was held in Las Vegas, United States, between 31 July and 28 August 1999. The championship was won by Russian Alexander Khalifman, making him the FIDE World Chess Champion.-Format:...
in 1999, a title he held until the following year. He was
rated
Elo rating system
The Elo rating system is a method for calculating the relative skill levels of players in two-player games such as chess. It is named after its creator Arpad Elo, a Hungarian-born American physics professor....
44th in the world at the time, which some compared unfavourably to "Classical" World Champion
Garry Kasparov
Garry Kasparov
Garry Kimovich Kasparov is a Russian chess grandmaster, a former World Chess Champion, writer, political activist, and one of the greatest chess players of all time....
being rated #1. Khalifman said after the tournament, "Rating systems work perfectly for players who play only in
round robin
Round-robin tournament
A round-robin tournament is a competition "in which each contestant meets all other contestants in turn".-Terminology:...
closed events. I think most of them are overrated. Organizers invite same people over and over because they have the same rating and their rating stays high". Perhaps in response, Khalifman was invited to the next
Linares chess tournament
Linares chess tournament
The Linares International Chess Tournament , is an annual chess tournament, usually played around the end of February, takes its name from the city of Linares in the Jaén province of Andalusia, Spain, in which it is held...
, and performed credibly (though placing below joint winner Kasparov).
He also won the 1982 USSR Youth Championship, 1984 USSR championship, 1985 and 1987 Moscow championships, 1990 Groningen, 1993 Ter Apel, 1994 Chess Open of Eupen
1995 Chess Open St. Petersburg, 1996 Russian Championship, 1997 Chess Grand Master Tournament St. Petersburg, 1997 Aarhus, 1997 World Team Championship Luzern, 1998 Bad Wiessee, 2000 Hoogeveen, Netherlands, 2000 Chess Olympiad and 2002 Chess Olympiad tournaments.
Khalifman holds the record of most consecutive games played at
Aeroflot Open
Aeroflot Open
The Aeroflot Open is an annual open chess tournament played in Moscow and sponsored by the airline Aeroflot. It was established in 2002 and quickly grew to be the strongest open tournament. The first event had around 80 grandmasters, while in the second event 150 grandmasters participated...
tournament without a loss (72 games in eight tournaments — from 2004–2011).
With his trainer Genadi Nesis he runs a chess academy in St. Petersburg, called "The Grandmaster Chess School." There he trains players from all over the world following the motto: "chess = intellect + character."
Notable games
External links