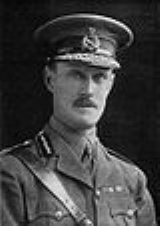 Alexander Godley
General
General
A general officer is an officer of high military rank, usually in the army, and in some nations, the air force. The term is widely used by many nations of the world, and when a country uses a different term, there is an equivalent title given....
Sir Alexander John Godley
GCB
Order of the Bath
The Most Honourable Order of the Bath is a British order of chivalry founded by George I on 18 May 1725. The name derives from the elaborate mediæval ceremony for creating a knight, which involved bathing as one of its elements. The knights so created were known as Knights of the Bath...
,
KCMG
Order of St Michael and St George
The Most Distinguished Order of Saint Michael and Saint George is an order of chivalry founded on 28 April 1818 by George, Prince Regent, later George IV of the United Kingdom, while he was acting as Prince Regent for his father, George III....
(1867–1957) was a First World War general, best known for his role as commander of the
New Zealand Expeditionary Force
New Zealand Expeditionary Force
The New Zealand Expeditionary Force was the title of the military forces sent from New Zealand to fight for Britain during World War I and World War II. Ultimately, the NZEF of World War I was known as the First New Zealand Expeditionary Force...
. During the
Battle of Gallipoli
Battle of Gallipoli
The Gallipoli Campaign, also known as the Dardanelles Campaign or the Battle of Gallipoli, took place at the peninsula of Gallipoli in the Ottoman Empire between 25 April 1915 and 9 January 1916, during the First World War...
he commanded the
New Zealand and Australian Division
New Zealand and Australian Division
The New Zealand and Australian Division was formed at the start of the Battle of Gallipoli as a composite division under the command of New Zealand general Alexander Godley. At the start of World War I New Zealand had mustered insufficient infantry battalions to form their own division while...
.
Alexander Godley was born in Chatham, Kent, England, on 4 February 1867, the son of William Godley, a British Army captain of Irish heritage. Educated at Haileybury College and the Royal Military College, Sandhurst, Alexander was commissioned into the Royal Dublin Fusiliers in 1886.