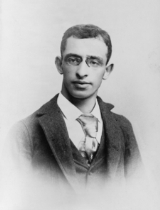 Alexander Berkman
Alexander Berkman
was an
anarchist
Anarchism
Anarchism is generally defined as the political philosophy which holds the state to be undesirable, unnecessary, and harmful, or alternatively as opposing authority in the conduct of human relations...
known for his political activism and writing. He was a leading member of the anarchist movement in the early 20th century.
Berkman was born in
Vilnius
Vilnius
Vilnius is the capital of Lithuania, and its largest city, with a population of 560,190 as of 2010. It is the seat of the Vilnius city municipality and of the Vilnius district municipality. It is also the capital of Vilnius County...
in the
Russian Empire
Russian Empire
The Russian Empire was a state that existed from 1721 until the Russian Revolution of 1917. It was the successor to the Tsardom of Russia and the predecessor of the Soviet Union...
and immigrated to the
United States
United States
The United States of America is a federal constitutional republic comprising fifty states and a federal district...
in 1888. He lived in
New York City
New York City
New York is the most populous city in the United States and the center of the New York Metropolitan Area, one of the most populous metropolitan areas in the world. New York exerts a significant impact upon global commerce, finance, media, art, fashion, research, technology, education, and...
, where he became involved in the anarchist movement. He was the lover and lifelong friend of anarchist
Emma Goldman
Emma Goldman
Emma Goldman was an anarchist known for her political activism, writing and speeches. She played a pivotal role in the development of anarchist political philosophy in North America and Europe in the first half of the twentieth century....
. In 1892, Berkman attempted to assassinate businessman
Henry Clay Frick
Henry Clay Frick
Henry Clay Frick was an American industrialist, financier, and art patron. He founded the H. C. Frick & Company coke manufacturing company, was chairman of the Carnegie Steel Company, and played a major role in the formation of the giant U.S. Steel steel manufacturing concern...
as an act of
propaganda of the deed
Propaganda of the deed
Propaganda of the deed is a concept that refers to specific political actions meant to be exemplary to others...
.
It is the system, rather than individuals, that is the source of pollution and degradation. My prison-house environment is but another manifestation of the Midas-hand, whose cursed touch turns everything to the brutal service of Mammon.

Prison Memoirs of an Anarchist (1912), ch. 18: "The Solitary"