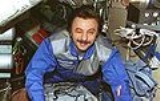 Aleksandr Lazutkin
Aleksandr Ivanovich Lazutkin
' onMouseout='HidePop("83817")' href="/topics/Moscow">Moscow
Moscow
Moscow is the capital, the most populous city, and the most populous federal subject of Russia. The city is a major political, economic, cultural, scientific, religious, financial, educational, and transportation centre of Russia and the continent...
) is a
Russia
Russia
Russia or , officially known as both Russia and the Russian Federation , is a country in northern Eurasia. It is a federal semi-presidential republic, comprising 83 federal subjects...
n cosmonaut.
He was selected as cosmonaut on March 3, 1992. His first spaceflight was
Soyuz TM-25
Soyuz TM-25
-Crew:-Mission highlights:This was the 30th expedition to Mir. An ESA astronaut from Germany was included on the mission.Soyuz TM-25 is a Russian spacecraft that was launched to carry astronauts and supplies to Mir station...
, on which he was the flight engineer.
He is married and has two children.
Lazutkin was aboard the Mir Space Station when the collision with the resupply vessel occurred. During a personal account of this event, he stated that it was clear that the air was escaping from the station. Although not audible above the noise of the station, the reduction in pressure became evident in the ears. The crew retreated to the safe part of the station and Lazutkin himself shut the hatch on the damaged section. Instantly, he knew air was no longer escaping but realised his hands were shaking as a result of what had happened. He describes quite wonderfully that he was so scared he didn't realize... that was why his hands were shaking. Shortly afterward, the station lost power as it receded around the night side of the earth. The silence and darkness he describes as unlike anything he had ever experienced before or since. As he gazed down at the dim lights of the earth shining up from the surface, as he contemplated his own mortality and his dire situation, he thought, "This is not so bad, I'm still alive".
Lazutkin is currently helping to promote space science to young people (June 2006). Despite his difficulty with English, his recollections are nothing short of inspirational and remarkable.