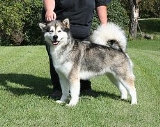 Alaskan Malamute
The
Alaskan Malamute
is a generally large
breed
Dog breed
Dog breeds are groups of closely related and visibly similar domestic dogs, which are all of the subspecies Canis lupus familiaris, having characteristic traits that are selected and maintained by humans, bred from a known foundation stock....
of domestic dog (
Canis lupus familiaris
) originally bred for use as a utilitarian dog and later an Alaskan
sled dog
Sled dog
Sled dogs, known also as sleigh man dogs, sledge dogs, or sleddogs, are highly trained types of dogs that are used to pull a dog sled, a wheel-less vehicle on runners also called a sled or sleigh, over snow or ice, by means of harnesses and lines.Sled dogs have become a popular winter recreation...
. They are sometimes mistaken for a
Siberian Husky
Siberian Husky
The Siberian Husky is a medium-size, dense-coat working dog breed that originated in north-eastern Siberia. The breed belongs to the Spitz genetic family...
, but in fact are quite different in many ways. As pets, once mature, Malamutes have a very quiet, dignified temperament and are loyal to their owners.
The
American Kennel Club
American Kennel Club
The American Kennel Club is a registry of purebred dog pedigrees in the United States. Beyond maintaining its pedigree registry, this kennel club also promotes and sanctions events for purebred dogs, including the Westminster Kennel Club Dog Show, an annual event which predates the official...
(AKC) breed standard calls for a natural range of size, with a desired freighting size of 23 inches (58 cm) and 75 pounds (34 kg) for females, 25 inches (64 cm) and 85 pounds (39 kg) for males.