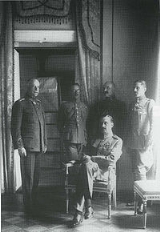 Adjutant
Adjutant
is a military rank or appointment. In some armies, including most English-speaking ones, it is an
officer
Officer (armed forces)
An officer is a member of an armed force or uniformed service who holds a position of authority. Commissioned officers derive authority directly from a sovereign power and, as such, hold a commission charging them with the duties and responsibilities of a specific office or position...
who assists a more senior officer, while in other armies, especially Francophone ones, it is an NCO (non-commissioned officer), normally corresponding roughly to a Staff Sergeant or Warrant Officer.
An
Adjutant General
Adjutant general
An Adjutant General is a military chief administrative officer.-Imperial Russia:In Imperial Russia, the General-Adjutant was a Court officer, who was usually an army general. He served as a personal aide to the Tsar and hence was a member of the H. I. M. Retinue...
is commander of an army's administrative services.
Adjutant comes from the
Latin
Latin
Latin is an Italic language originally spoken in Latium and Ancient Rome. It, along with most European languages, is a descendant of the ancient Proto-Indo-European language. Although it is considered a dead language, a number of scholars and members of the Christian clergy speak it fluently, and...
adjutans
, present participle of the verb
adjuvare
, "to help"; the Romans actually used
adiutor
for the noun.
In various uniformed hierarchies, the term is used for number of functions, but generally as a principal aide to a commanding officer.
A
Regimental Adjutant
,
Garrison Adjutant
etc.