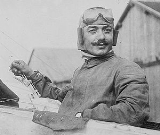 Adolphe Pegoud
Adolphe Célestin Pégoud
(13 June 1889 - 31 August 1915) was a well known pre-war French
aviator
Aviator
An aviator is a person who flies an aircraft. The first recorded use of the term was in 1887, as a variation of 'aviation', from the Latin avis , coined in 1863 by G. de la Landelle in Aviation Ou Navigation Aérienne...
who became the first
fighter ace
Fighter Ace
Fighter Ace was a massively multiplayer online computer game in which one flies World War II fighter and bomber planes in combat against other players and virtual pilots...
.
Pégoud served in the French Army from 1907 to 1913. Immediately thereafter he began flying, earned his pilot's certificate, and in a few months, on 21 September 1913, as a test pilot for
Louis Blériot
Louis Blériot
Louis Charles Joseph Blériot was a French aviator, inventor and engineer. In 1909 he completed the first flight across a large body of water in a heavier-than-air craft, when he crossed the English Channel. For this achievement, he received a prize of £1,000...
, in a
Blériot model XI
Blériot XI
The Blériot XI is the aircraft in which, on 25 July 1909, Louis Blériot made the first flight across the English Channel made in a heavier-than-air aircraft . This achievement is one of the most famous accomplishments of the early years of aviation, and not only won Blériot a lasting place in...
monoplane and in a series of test flights exploring the limits of airplane maneuvers, he flew a loop, believing it to be the world's first. Pégoud's feat was consequently widely publicized and believed by many to be the first loop, although
Pyotr Nesterov
Pyotr Nesterov
Pyotr Nikolayevich Nesterov was a Russian pilot, an aircraft technical designer and an aerobatics pioneer.-Life and career:The son of a military academy teacher, Pyotr Nesterov decided to choose a military career. In August 1904 he left the military school in Nizhny Novgorod and went to the...
, a Russian army pilot, had flown the first one on 9 September 1913, just 12 days earlier, in a
Nieuport IV
Nieuport IV
-External links:**...
monoplane at an army airfield near Kiev. Pégoud also was the first pilot to make a
parachute
Parachute
A parachute is a device used to slow the motion of an object through an atmosphere by creating drag, or in the case of ram-air parachutes, aerodynamic lift. Parachutes are usually made out of light, strong cloth, originally silk, now most commonly nylon...
jump from an airplane. He also became a popular instructor of French and other European fledgling pilots.
At the start of
World War I
World War I
World War I , which was predominantly called the World War or the Great War from its occurrence until 1939, and the First World War or World War I thereafter, was a major war centred in Europe that began on 28 July 1914 and lasted until 11 November 1918...
, Pégoud volunteered for flying duty and was immediately accepted as an observation pilot. On 5 February 1915, he and his gunner were credited with shooting down two German aircraft and forcing another to land. Soon he was flying single-seat aircraft and in April claimed two further victories. His sixth success came in July.
It is not known how many of Pégoud's victories involved destruction of enemy aircraft, as early air combat was rare enough to warrant credit for a forced landing. However, it is certain that Pégoud, rather than Roland Garros (three documented victories), was the first pilot to achieve ace status of any sort.

On 31 August 1915, Pégoud was shot down, ironically by one of his prewar German students, Unteroffizier Kandulski, while intercepting a German reconnaissance aircraft. He was 26 years old. The same German crew later dropped a funeral wreath above the French lines.
External links