 Acolhuacan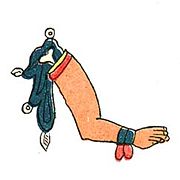 Acolhuacan
or
Aculhuacan
(
Nahuatl
Nahuatl
Nahuatl is thought to mean "a good, clear sound" This language name has several spellings, among them náhuatl , Naoatl, Nauatl, Nahuatl, Nawatl. In a back formation from the name of the language, the ethnic group of Nahuatl speakers are called Nahua...
:
ācōlhuahcān
; aːkoːlˈwaʔkaːn) was a
pre-Columbian
Pre-Columbian
The pre-Columbian era incorporates all period subdivisions in the history and prehistory of the Americas before the appearance of significant European influences on the American continents, spanning the time of the original settlement in the Upper Paleolithic period to European colonization during...
province in the east of the
Valley of Mexico
Valley of Mexico
The Valley of Mexico is a highlands plateau in central Mexico roughly coterminous with the present-day Distrito Federal and the eastern half of the State of Mexico. Surrounded by mountains and volcanoes, the Valley of Mexico was a centre for several pre-Columbian civilizations, including...
, inhabited by the
Acolhua
Acolhua
The Acolhua are a Mesoamerican people who arrived in the Valley of Mexico in or around the year 1200 CE. The Acolhua were a sister culture of the Aztecs as well as the Tepanec, Chalca, Xochimilca and others....
. Its capital was Texcoco (Tetzcoco). Other
altepetl
Altepetl
The altepetl, in Pre-Columbian and Spanish conquest-era Aztec society, was the local, ethnically based political entity. The word is a combination of the Nahuatl words ā-tl, meaning water, and tepē-tl, meaning mountain....
(
city-state
City-state
A city-state is an independent or autonomous entity whose territory consists of a city which is not administered as a part of another local government.-Historical city-states:...
s) in Acolhuacan included Coatl Ichan,
Ecatepec
Ecatepec
Ecatepec was an Aztec altepetl or city-state in the Valley of Mexico.-Tlatoque:From 1428 to 1539, Ecatepec was ruled by a tlatoani...
,
Teotihuacan
Teotihuacan
Teotihuacan – also written Teotihuacán, with a Spanish orthographic accent on the last syllable – is an enormous archaeological site in the Basin of Mexico, just 30 miles northeast of Mexico City, containing some of the largest pyramidal structures built in the pre-Columbian Americas...
, and
Tepetlaoztoc
Tepetlaoztoc
Tepetlaoztoc or Tepetlaoxtoc is an archaeological site located in the Central Mexico plateau region of Mesoamerica, which was formerly an Aztec/Nahua settlement during the Late Postclassic period of Mesoamerican chronology, with an occupancy continuing through the Colonial period...
.