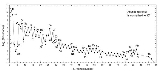 Abundance of the chemical elements
The abundance of a
chemical element
Chemical element
A chemical element is a pure chemical substance consisting of one type of atom distinguished by its atomic number, which is the number of protons in its nucleus. Familiar examples of elements include carbon, oxygen, aluminum, iron, copper, gold, mercury, and lead.As of November 2011, 118 elements...
measures how relatively common (or rare) the element is, or how much of the element is present in a given environment by comparison to all other elements. Abundance may be variously measured by the
mass-fraction
(the same as weight fraction), or
mole-fraction
(fraction of atoms by numerical count, or sometimes fraction of molecules in gases), or by volume-fraction.