 Abu Nuwas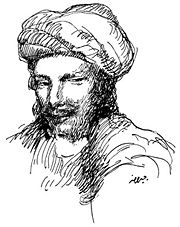 Abu-Nuwas al-Hasan ben Hani Al-Hakami
(756–814),
a
known as
Abū-Nuwās
, was one of the greatest of classical
Arabic
Arabic poetry
Arabic poetry is the earliest form of Arabic literature. Present knowledge of poetry in Arabic dates from the 6th century, but oral poetry is believed to predate that. Arabic poetry is categorized into two main types, rhymed, or measured, and prose, with the former greatly preceding the latter...
poets, who also composed in Persian on occasion. Born in the city of
Ahvaz
Ahvaz
-History:For a more comprehensive historical treatment of the area, see the history section of Khūzestān Province.-Ancient history:Ahvaz is the anagram of "Avaz" and "Avaja" which appear in Darius's epigraph...
in Persia, of an
Arab
Arab
Arab people, also known as Arabs , are a panethnicity primarily living in the Arab world, which is located in Western Asia and North Africa. They are identified as such on one or more of genealogical, linguistic, or cultural grounds, with tribal affiliations, and intra-tribal relationships playing...
father and a
Persian
Persian people
The Persian people are part of the Iranian peoples who speak the modern Persian language and closely akin Iranian dialects and languages. The origin of the ethnic Iranian/Persian peoples are traced to the Ancient Iranian peoples, who were part of the ancient Indo-Iranians and themselves part of...
mother, he became a master of all the contemporary genres of Arabic poetry. Abu Nuwas has entered the folkloric tradition, and he appears several times in
The Book of One Thousand and One Nights
The Book of One Thousand and One Nights
One Thousand and One Nights is a collection of Middle Eastern and South Asian stories and folk tales compiled in Arabic during the Islamic Golden Age...
.
Early life and work
Abu Nuwas had a Persian father whom he never knew, Hani, who was a soldier in the army of
Marwan II
Marwan II
Marwan ibn Muhammad ibn Marwan or Marwan II was an Umayyad caliph who ruled from 744 until 750 when he was killed. He was the last Umayyad ruler to rule from Damascus.In A.H. 114 Caliph Hisham appointed Marwan governor of Armenia and Azerbaijan. In A.H...
. His Persian mother, named Golban, worked as a weaver. Biographies differ on the date of Abu Nuwas' birth, ranging from 747 to 762. Some say he was born at
Basra
Basra
Basra is the capital of Basra Governorate, in southern Iraq near Kuwait and Iran. It had an estimated population of two million as of 2009...
others in Damascus, Busra, or at Ahwaz. His given name was
al-Hasan ibn Hani al-Hakami
, 'Abu Nuwas' being a nickname: 'Father of the Lock of Hair' referred to the two long sidelocks which hung down to his shoulders.
When Abu Nuwas was still a boy, his mother sold him to a grocer from
Basra
Basra
Basra is the capital of Basra Governorate, in southern Iraq near Kuwait and Iran. It had an estimated population of two million as of 2009...
, Sa'ad al-Yashira.
Abu Nuwas migrated to
Baghdad
Baghdad
Baghdad is the capital of Iraq, as well as the coterminous Baghdad Governorate. The population of Baghdad in 2011 is approximately 7,216,040...
, possibly in the company of Walibah ibn al-Hubab, and soon became renowned for his witty and humorous poetry, which dealt not with the traditional desert themes, but with urban life and the joys of wine and drinking (
khamriyyat
), and ribald humor (
mujuniyyat
). His commissioned work includes poems on hunting, the sexual objectification of women and boys, and
panegyric
Panegyric
A panegyric is a formal public speech, or written verse, delivered in high praise of a person or thing, a generally highly studied and discriminating eulogy, not expected to be critical. It is derived from the Greek πανηγυρικός meaning "a speech fit for a general assembly"...
s to his patrons. He was infamous for his mockery and satire, two of his favorite themes being the sexual passivity of men and the sexual intemperance of women. Despite his celebration of boy "love," he was less than sympathetic towards lesbianism, and often mocked what he perceived as its inanity. He liked to shock society by openly writing about things which
Islam
Islam
Islam . The most common are and . : Arabic pronunciation varies regionally. The first vowel ranges from ~~. The second vowel ranges from ~~~...
forbade. He may have been the first Arab poet to write about masturbation.
Ismail bin Nubakht said of Abu Nuwas: "I never saw a man of more extensive learning than Abu Nuwas, nor one who, with a memory so richly furnished, possessed so few books. After his decease we searched his house, and could only find one book-cover containing a quire of paper, in which was a collection of rare expressions and grammatical observations."
Exile and imprisonment
Abu Nuwas was forced to flee to
Egypt
Egypt
Egypt , officially the Arab Republic of Egypt, Arabic: , is a country mainly in North Africa, with the Sinai Peninsula forming a land bridge in Southwest Asia. Egypt is thus a transcontinental country, and a major power in Africa, the Mediterranean Basin, the Middle East and the Muslim world...
for a time, after he wrote an elegiac poem praising the elite Persian political family of the Barmakis, the powerful family which had been toppled and massacred by the caliph,
Harun al-Rashid
Harun al-Rashid
Hārūn al-Rashīd was the fifth Arab Abbasid Caliph in Iraq. He was born in Rey, Iran, close to modern Tehran. His birth date remains a point of discussion, though, as various sources give the dates from 763 to 766)....
. He returned to Baghdad in 809 upon the death of Harun al-Rashid. The subsequent ascension of Muhammad
al-Amin
Al-Amin
Muhammad ibn Harun al-Amin , Abbasid Caliph. He succeeded his father, Harun al-Rashid in 809 and ruled until he was killed in 813.-Caliph:...
, Harun al-Rashid's twenty-two-year-old libertine son (and former student of Abu Nuwas) was a mighty stroke of luck for Abu Nuwas. In fact, most scholars believe that Abu Nuwas wrote most of his poems during the reign of al-Amin. His most famous royal commission was a poem (a 'Kasida') which he composed in praise of al-Amin.
"According to the critics of his time, he was the greatest poet in Islam." wrote F.F. Arbuthnot in
Arabic Authors
. His contemporary Abu Hatim al Mekki often said that the deepest meanings of thoughts were concealed underground until Abu Nuwas dug them out.
Nevertheless, Abu Nuwas was imprisoned when his drunken, libidinous exploits tested even al-Amin's patience. Amin was finally overthrown by his puritanical brother,
Al-Ma'mun
Al-Ma'mun
Abū Jaʿfar Abdullāh al-Māʾmūn ibn Harūn was an Abbasid caliph who reigned from 813 until his death in 833...
, who had no tolerance for Abu Nuwas.
Some later accounts claim that fear of prison made Abu Nuwas repent his old ways and become deeply religious, while others believe his later, penitent poems were simply written in hopes of winning the caliph's pardon. It was said that al-Ma'mun's secretary Zonbor tricked Abu Nuwas into writing a satire against
Ali
Ali
' |Ramaḍān]], 40 AH; approximately October 23, 598 or 600 or March 17, 599 – January 27, 661).His father's name was Abu Talib. Ali was also the cousin and son-in-law of the Islamic prophet Muhammad, and ruled over the Islamic Caliphate from 656 to 661, and was the first male convert to Islam...
, the son-in-law of the Prophet, while Nuwas was drunk. Zonbor then deliberately read the poem aloud in public, and ensured Nuwas's continuing imprisonment. Depending on which biography is consulted, Abu Nuwas either died in prison or was poisoned by Ismail bin Abu Sehl, or both.
Legacy
Abu Nuwas is considered one of the greats of classical Arabic literature. He influenced many later writers, to mention only
Omar Khayyám
Omar Khayyám
Omar Khayyám was aPersian polymath: philosopher, mathematician, astronomer and poet. He also wrote treatises on mechanics, geography, mineralogy, music, climatology and theology....
, and
Hafiz
Hafez
Khwāja Shamsu d-Dīn Muhammad Hāfez-e Shīrāzī , known by his pen name Hāfez , was a Persian lyric poet. His collected works composed of series of Persian poetry are to be found in the homes of most Iranians, who learn his poems by heart and use them as proverbs and sayings to this day...
— both of them Persian poets. A hedonistic caricature of Abu Nuwas appears in several of the Thousand and One Nights tales. Among his best known poems are the ones ridiculing the "Olde Arabia" nostalgia for the life of the Bedouin, and enthusiastically praising the up-to-date life in Baghdad as a vivid contrast.
His freedom of expression especially on matters forbidden by Islamic norms continue to excite the animus of censors. While his works were freely in circulation until the early years of the twentieth century, in 1932 the first modern censored edition of his works appeared in Cairo. In 1976, a crater on the planet Mercury was named in honor of Abu Nuwas.
Baghdad
Al-Khatib al-Baghdadi
Al-Khatib al-Baghdadi
Abu Bakr Ahmad ibn `Ali ibn Thabit ibn Ahmad ibn Mahdi al-Shafi`i, commonly known as al-Khatib al-Baghdadi or the lecturer from Baghdad , was a Sunni Muslim scholar and historian.-Early life:...
, the author of the History of Baghdad, wrote that Abu Nuwas was buried in Shunizi cemetery in Baghdad.
The city has several places named for the poet. Abū Nuwās Street runs along the east bank of the
Tigris
Tigris
The Tigris River is the eastern member of the two great rivers that define Mesopotamia, the other being the Euphrates. The river flows south from the mountains of southeastern Turkey through Iraq.-Geography:...
that was once the city's showpiece. Abu Nuwas Park is also located there on the 2.5-kilometer stretch between the Jumhouriya Bridge and a park that extends out to the river in Karada near the 14th of July Bridge.
Swahili culture
In East Africa's
Swahili culture
Swahili culture
Swahili culture is the culture of the Swahili people living on the east coast of Tanzania, Kenya, and Mozambique as well as on the islands in the area, from Zanzibar to Comoros, who speak Swahili as their native language....
the Name of Abu Nuwas is quite popular as Abunuwasi. Here it is connected to a number of stories which otherwise go by names like
Nasreddin
Nasreddin
Nasreddin was a Seljuq satirical Sufi figure, sometimes believed to have lived during the Middle Ages and considered a populist philosopher and wise man, remembered for his funny stories and anecdotes. He appears in thousands of stories, sometimes witty, sometimes wise, but often, too, a fool or...
, Guba or "the Mullah" in folktale and literature of Islamic societies. In the tales Abunuwasi tricks greedy, wealthy men and avenges the poor people.
The
Tanzania
Tanzania
The United Republic of Tanzania is a country in East Africa bordered by Kenya and Uganda to the north, Rwanda, Burundi, and the Democratic Republic of the Congo to the west, and Zambia, Malawi, and Mozambique to the south. The country's eastern borders lie on the Indian Ocean.Tanzania is a state...
n artist Godfrey Mwampembwa (
Gado
Gado (comic book artist)
Godfrey Mwampembwa, pen name Gado, is a Tanzanian comic book artist.He serves as an editorial cartoonist at the Daily Nation.In 1999 Gado was named Kenyan Cartoonist of the Year.-External links:* * *...
) created a
Swahili
Swahili language
Swahili or Kiswahili is a Bantu language spoken by various ethnic groups that inhabit several large stretches of the Mozambique Channel coastline from northern Kenya to northern Mozambique, including the Comoro Islands. It is also spoken by ethnic minority groups in Somalia...
comic book called
Abunuwasi
, which has adaptations of three of the Abunuwasi stories. The book was published by Sasa Sema Publications in 1996.
Translations
O Tribe That Loves Boys. Hakim Bey (Entimos Press / Abu Nuwas Society, 1993). With a scholarly biographical essay on Abu Nuwas, largely taken from Ewald Wagner's biographical entry in The Encyclopedia of Islam.
Carousing with Gazelles, Homoerotic Songs of Old Baghdad. Seventeen poems by Abu Nuwas translated by Jaafar Abu Tarab. (iUniverse, Inc., 2005).
Jim Colville. Poems of Wine and Revelry: The Khamriyyat of Abu Nuwas. (Kegan Paul, 2005).
External links
The Knitting Circle – Abu Nuwas