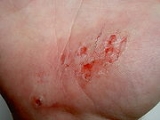 Abrasion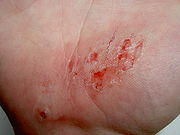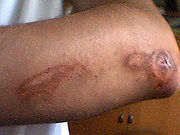 In
dermatology
Dermatology
Dermatology is the branch of medicine dealing with the skin and its diseases, a unique specialty with both medical and surgical aspects. A dermatologist takes care of diseases, in the widest sense, and some cosmetic problems of the skin, scalp, hair, and nails....
, an
abrasion
is a
wound
Wound
A wound is a type of injury in which skin is torn, cut or punctured , or where blunt force trauma causes a contusion . In pathology, it specifically refers to a sharp injury which damages the dermis of the skin.-Open:...
caused by superficial damage to the
skin
Skin
-Dermis:The dermis is the layer of skin beneath the epidermis that consists of connective tissue and cushions the body from stress and strain. The dermis is tightly connected to the epidermis by a basement membrane. It also harbors many Mechanoreceptors that provide the sense of touch and heat...
, no deeper than the
epidermis
. It is less severe than a laceration, and bleeding, if present, is minimal. Mild abrasions, also known as
grazes
or
scrapes
, do not
scar
Scar
Scars are areas of fibrous tissue that replace normal skin after injury. A scar results from the biological process of wound repair in the skin and other tissues of the body. Thus, scarring is a natural part of the healing process. With the exception of very minor lesions, every wound results in...
or bleed, but deep abrasions may lead to the formation of scar tissue. A more traumatic abrasion that removes all layers of skin is called an
avulsion
Avulsion injury
In medicine, an avulsion is an injury in which a body structure is forcibly detached. It most commonly refers to a surface trauma where all layers of the skin have been torn away, exposing the underlying structures...
.
Abrasion injuries most commonly occur when exposed skin comes into moving contact with a rough surface, causing a grinding or rubbing away of the upper layers of the epidermis.
By degree
A first-degree abrasion involves only epidermal injury.
A second-degree abrasion involves the epidermis as well as the dermis and may bleed slightly.
A third-degree abrasion involves damage to the subcutaneous layer and the skin and is often called an avulsion

Avulsion

Avulsion in general refers to a tearing away. Specifically, it can refer to:* A type of amputation where the extremity is pulled off rather than cut off* Avulsion fracture* Avulsion injury, the removal of all the layers of skin from abrasion...


.
Treatment
The abrasion should be cleaned and any debris removed. A topical
antibiotic
Antibiotic
An antibacterial is a compound or substance that kills or slows down the growth of bacteria.The term is often used synonymously with the term antibiotic; today, however, with increased knowledge of the causative agents of various infectious diseases, antibiotic has come to denote a broader range of...
(such as
Neosporin
Neosporin
Neosporin is the product branding & formulas now owned by Johnson & Johnson of an antibiotic over-the-counter topical created under Warner-Lambert Consumer Healthcare, now a part of Pfizer...
or
bacitracin
Bacitracin
Bacitracin is a mixture of related cyclic polypeptides produced by organisms of the licheniformis group of Bacillus subtilis var Tracy, isolation of which was first reported in 1945....
) should be applied to prevent infection and to keep the wound moist. Dressing the wound is optional but helps to keep the wound from drying out which interferes with
healing
Wound healing
Wound healing, or cicatrisation, is an intricate process in which the skin repairs itself after injury. In normal skin, the epidermis and dermis exists in a steady-state equilibrium, forming a protective barrier against the external environment...
. If the abrasion is painful, a topical
analgesic
Analgesic
An analgesic is any member of the group of drugs used to relieve pain . The word analgesic derives from Greek an- and algos ....
(such as
lidocaine
Lidocaine
Lidocaine , Xylocaine, or lignocaine is a common local anesthetic and antiarrhythmic drug. Lidocaine is used topically to relieve itching, burning and pain from skin inflammations, injected as a dental anesthetic or as a local anesthetic for minor surgery.- History :Lidocaine, the first amino...
or
benzocaine
Benzocaine
Benzocaine is a local anesthetic commonly used as a topical pain reliever, or in cough drops. It is the active ingredient in many over-the-counter anesthetic ointments...
) can be applied, but for large abrasions a systemic analgesic may be necessary. Avoid exposing abraded skin to the sun as permanent hyperpigmentation can develop.
Healing
The gallery below shows the healing process for an abrasion on the palm caused by sliding on concrete.