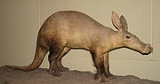 Aardvark
The
aardvark
is a medium-sized, burrowing, nocturnal mammal native to
Africa
Africa
Africa is the world's second largest and second most populous continent, after Asia. At about 30.2 million km² including adjacent islands, it covers 6% of the Earth's total surface area and 20.4% of the total land area...
. It is the only living species of the order Tubulidentata, although other prehistoric species and genera of Tubulidentata are known.
It is sometimes colloquially called "antbear", "anteater", or the "Cape anteater" after the
Cape of Good Hope
Cape of Good Hope
The Cape of Good Hope is a rocky headland on the Atlantic coast of the Cape Peninsula, South Africa.There is a misconception that the Cape of Good Hope is the southern tip of Africa, because it was once believed to be the dividing point between the Atlantic and Indian Oceans. In fact, the...
. The name comes from the
Afrikaans
Afrikaans
Afrikaans is a West Germanic language, spoken natively in South Africa and Namibia. It is a daughter language of Dutch, originating in its 17th century dialects, collectively referred to as Cape Dutch .Afrikaans is a daughter language of Dutch; see , , , , , .Afrikaans was historically called Cape...
/
Dutch
Dutch language
Dutch is a West Germanic language and the native language of the majority of the population of the Netherlands, Belgium, and Suriname, the three member states of the Dutch Language Union. Most speakers live in the European Union, where it is a first language for about 23 million and a second...
for "earth pig" or "ground pig" (
aarde
earth/ground,
varken
pig), because of its burrowing habits (similar origin to the name
groundhog
Groundhog
The groundhog , also known as a woodchuck, whistle-pig, or in some areas as a land-beaver, is a rodent of the family Sciuridae, belonging to the group of large ground squirrels known as marmots. Other marmots, such as the yellow-bellied and hoary marmots, live in rocky and mountainous areas, but...
).