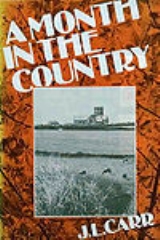 A Month in the Country
A Month in the Country
is the fifth
novel
Novel
A novel is a book of long narrative in literary prose. The genre has historical roots both in the fields of the medieval and early modern romance and in the tradition of the novella. The latter supplied the present generic term in the late 18th century....
by
J. L. Carr
J. L. Carr
Joseph Lloyd Carr ; who called himself "Jim" or even "James," was an English novelist, publisher, teacher, and eccentric.-Biography:...
, first published in 1980 and nominated for the Booker Prize. The book won the Guardian Fiction Prize in 1980.
The story
The plot concerns Tom Birkin, a
World War I
World War I
World War I , which was predominantly called the World War or the Great War from its occurrence until 1939, and the First World War or World War I thereafter, was a major war centred in Europe that began on 28 July 1914 and lasted until 11 November 1918...
veteran employed to uncover a mural in a village church that was thought to exist under coats of whitewash. At the same time another veteran is employed to look for a grave beyond the churchyard walls. Though Birkin is an atheist there is prevalent religious symbolism throughout the book, mainly dealing with judgment. The novel explores themes of England's loss of spirituality after the war, and of
happiness
Happiness
Happiness is a mental state of well-being characterized by positive emotions ranging from contentment to intense joy. A variety of biological, psychological, religious, and philosophical approaches have striven to define happiness and identify its sources....
, melancholy, and
nostalgia
Nostalgia
The term nostalgia describes a yearning for the past, often in idealized form.The word is a learned formation of a Greek compound, consisting of , meaning "returning home", a Homeric word, and , meaning "pain, ache"...
as Birkin recalls the summer uncovering the mural, when he healed from his wartime experiences and a broken marriage. In an essay for
Open Letters Monthly
Open Letters Monthly
Open Letters Monthly is an online arts and culture magazine. It was founded in 2007 by Sam Sacks, John Cotter, and Steve Donoghue. It features long-form criticism of books, films, and art exhibits as well as original artwork and poetry....
, Ingrid Norton praised the novel's subtlety:


The happiness depicted in A Month in the Country is wise and wary, aware of its temporality. When he arrives in Oxgodby, Birkin knows very well life is not all ease and intimacy, long summer days with "winter always loitering around the corner." He has experienced emotional cruelty in his failed marriage. As a soldier, he witnessed death: destruction and unending mud.

But the edges are brighter for it. Birkin's idyll in the country is brought into relief by what Birkin has gone through in the past and the disappointments that, it is implied, await him. Carr's great art is to make it clear that joy is inseparable from the pain and oblivion which unmake it.

Many of the incidents in the novel are based on real events in Carr's own life, and some of the characters are modelled on his own Methodist family.
The book
The jacket illustration shows
Tintagel Parish Church
Tintagel Parish Church
The Parish Church of Saint Materiana at Tintagel is an Anglican church in Cornwall, UK. It stands on the cliffs between Trevena and Tintagel Castle and is listed Grade I....
whereas the story is set in Yorkshire. The grave outside the churchyard wall was suggested by Tintagel where a number of early graves were encountered at Trecarne Lands and excavated.
The novel is a set book as a part of some secondary school English courses.
Dramatisation
With a screenplay by
Simon Gray
Simon Gray
Simon James Holliday Gray, CBE , was an English playwright and memoirist who also had a career as a university lecturer in English literature at Queen Mary, University of London, for 20 years...
, the novel was made into a
1987 film
A Month in the Country (film)
A Month in the Country is a 1987 British film directed by Pat O'Connor. The film is an adaptation of the novel of the same name by J. L. Carr, and stars Colin Firth, Kenneth Branagh, Natasha Richardson and Patrick Malahide...
, directed by
Pat O'Connor
Pat O'Connor (director)
Pat O'Connor, born in Ardmore, County Waterford, is an Irish film director.In 1982, O'Connor won a Jacob's Award for his direction of the RTÉ TV adaptation of William Trevor's short story, Ballroom of Romance starring Cyril Cusack and Brenda Fricker. It was shot near the village of Ballycroy,...
and starring
Colin Firth
Colin Firth
SirColin Andrew Firth, CBE is a British film, television, and theatre actor. Firth gained wide public attention in the 1990s for his portrayal of Mr. Darcy in the 1995 television adaptation of Jane Austen's Pride and Prejudice...
,
Kenneth Branagh
Kenneth Branagh
Kenneth Charles Branagh is an actor and film director from Northern Ireland. He is best known for directing and starring in several film adaptations of William Shakespeare's plays including Henry V , Much Ado About Nothing , Hamlet Kenneth Charles Branagh is an actor and film director from...
,
Natasha Richardson
Natasha Richardson
Natasha Jane Richardson was an English actress of stage and screen. A member of the Redgrave family, she was the daughter of actress Vanessa Redgrave and director/producer Tony Richardson and the granddaughter of Michael Redgrave and Rachel Kempson...
and
Patrick Malahide
Patrick Malahide
Patrick Malahide is a British actor, who has played many major film and television roles.-Personal life:Malahide, real name Patrick Gerald Duggan, was born in Reading, Berkshire, the son of Irish immigrants, a cook mother and a school secretary father...
. Shortly before his death,
Dave Sheasby
Dave Sheasby
David Sheasby , was an acclaimed playwright, director, dramatist and radio producer who was based in Sheffield, England....
completed a radio adaptation of the book, which was broadcast on the
BBC Radio 4
BBC Radio 4
BBC Radio 4 is a British domestic radio station, operated and owned by the BBC, that broadcasts a wide variety of spoken-word programmes, including news, drama, comedy, science and history. It replaced the BBC Home Service in 1967. The station controller is currently Gwyneth Williams, and the...
Saturday Play
Saturday Play
The Saturday Play is a regular feature on BBC Radio 4 and is described as "Thrillers, mysteries, love stories and detective fiction, as well as an occasional special series."The Saturday Play is part of the BBC's series...
in November 2010.
Publishing history
1980 Harvester Press, Brighton (reprinted 1981, 1982) ISBN 978-0-85527-328-6
1980 Penguin Books

Penguin Books

Penguin Books is a publisher founded in 1935 by Sir Allen Lane and V.K. Krishna Menon. Penguin revolutionised publishing in the 1930s through its high quality, inexpensive paperbacks, sold through Woolworths and other high street stores for sixpence. Penguin's success demonstrated that large...


(reprinted nine times) ISBN 978-0-14-005862-8
1983 St Martin's Press, New York NY (USA) ISBN 978-0-312-54680-9 (copyright date 1980, published July 1983)
1984 Academy Chicago Publishers

Academy Chicago Publishers

Academy Chicago Publishers is a trade book publisher founded in Chicago, Illinois in 1975 by Anita and Jordan Miller.. Founded over 35 years ago on a love of literature, this independent publishing house continues to publish wonderful books, all of which are hand selected by Jordan and Anita.".....


(USA) ISBN 978-0-89733-124-1
1985 Penguin Books

Penguin Books

Penguin Books is a publisher founded in 1935 by Sir Allen Lane and V.K. Krishna Menon. Penguin revolutionised publishing in the 1930s through its high quality, inexpensive paperbacks, sold through Woolworths and other high street stores for sixpence. Penguin's success demonstrated that large...


ISBN 978-0-14-005862-8
1987 Penguin Books

Penguin Books

Penguin Books is a publisher founded in 1935 by Sir Allen Lane and V.K. Krishna Menon. Penguin revolutionised publishing in the 1930s through its high quality, inexpensive paperbacks, sold through Woolworths and other high street stores for sixpence. Penguin's success demonstrated that large...


ISBN 978-0-14-010559-9
1991 The Quince Tree Press

The Quince Tree Press

The Quince Tree Press is the imprint established in 1966 by J. L. Carr to publish his maps, pocket books and novels. The Press is now run by his son Robert Carr and his wife, Jane.- History of the press :...


ISBN 978-0-900847-92-9
2000 Penguin Classics, with an introduction by Penelope Fitzgerald

Penelope Fitzgerald

Penelope Fitzgerald was a Booker Prize-winning English novelist, poet, essayist and biographer. In 2008, The Times included her in a list of "The 50 greatest British writers since 1945".-Early life:...


, ISBN 978-0-14-118230-8
2000 New York Review of Books Classics (USA) ISBN 978-0-940322-47-9
2003 The Quince Tree Press

The Quince Tree Press

The Quince Tree Press is the imprint established in 1966 by J. L. Carr to publish his maps, pocket books and novels. The Press is now run by his son Robert Carr and his wife, Jane.- History of the press :...



2010 Penguin Decades edition ISBN 978-0-14-104667-9
Special editions and translations
1988 ISIS Large Print Books, ISBN 978-1-85089-253-3
1990 Cornucopia Press (signed edition limited to 300 copies)
1992 Un mois à la campagne Actes Sud, Arles (French), ISBN 978-2-86869-854-4
1992 William ap Thomas Braille, Braille edition, ISBN 978-1-56956-285-7
1996 Een maand in de provincie Veen, Utrecht/Antwerp (Dutch)
1999 The Folio Society, illustrated by Ian Stephens
1999 Pasión en el Campo, Andrés Bello, Barcelona (Spanish)
2002 Um Mês no Campo, publisher unknown (Portuguese) ISBN 978-85-250-3537-0
2003 Ulverscroft Large Print Books
2004 Un mes en el campo, Pre-Textos, Valencia (Spanish)
2005 Un mese in campagna, Fazi Editore, Italy (Italian), ISBN 978-88-8112-706-1
2007 O Vara la Tara, Univers, Bucharest (Romanian)