ATEX directive
The
ATEX directive
consists of two EU directives describing what equipment and work environment is allowed in an environment with an explosive
atmosphere
Atmosphere
An atmosphere is a layer of gases that may surround a material body of sufficient mass, and that is held in place by the gravity of the body. An atmosphere may be retained for a longer duration, if the gravity is high and the atmosphere's temperature is low...
. ATEX derives its name from the
French
French language
French is a Romance language spoken as a first language in France, the Romandy region in Switzerland, Wallonia and Brussels in Belgium, Monaco, the regions of Quebec and Acadia in Canada, and by various communities elsewhere. Second-language speakers of French are distributed throughout many parts...
title of the 94/9/EC directive:
Appareils destinés à être utilisés en ATmosphères EXplosives
.
Directives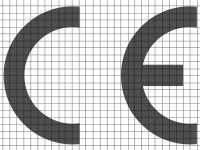 As of July 2006, organizations in EU must follow the directives to protect employees from explosion risk in areas with an explosive atmosphere.
There are two
ATEX
directives (one for the manufacturer and one for the user of the equipment):
the ATEX 95 equipment directive 94/9/EC, Equipment and protective systems intended for use in potentially explosive atmospheres;
the ATEX 137 workplace directive 99/92/EC, Minimum requirements for improving the safety and health protection of workers potentially at risk from explosive atmospheres.
Employers must classify areas where hazardous explosive atmospheres may occur into
zone
Zone
-Places:France* Any of several divisions during the German occupation of France during World War IIGermany* The Zone , a derogatory term for the German Democratic RepublicGreece...
s. The classification given to a particular zone, and its size and location, depends on the likelihood of an explosive atmosphere occurring and its persistence if it does.
Areas classified into zones (0, 1, 2 for gas-vapor-mist and 20, 21, 22 for dust) must be protected from effective sources of
ignition
Combustion
Combustion or burning is the sequence of exothermic chemical reactions between a fuel and an oxidant accompanied by the production of heat and conversion of chemical species. The release of heat can result in the production of light in the form of either glowing or a flame...
. Equipment and protective systems intended to be used in zoned areas must meet the requirements of the directive. Zone 0 and 20 require Category 1 marked equipment, zone 1 and 21 required Category 2 marked equipment and zone 2 and 22 required Category 3 marked equipment. Zone 0 and 20 are the zones with the highest risk of an explosive atmosphere being present.
Equipment in use before July 2003 is allowed to be used indefinitely provided a
risk assessment
Risk assessment
Risk assessment is a step in a risk management procedure. Risk assessment is the determination of quantitative or qualitative value of risk related to a concrete situation and a recognized threat...
shows it is safe to do so.
The aim of directive 94/9/EC is to allow the free trade of 'ATEX' equipment and protective systems within the EU by removing the need for separate testing and documentation for each member state.
The regulations apply to all equipment intended for use in explosive atmospheres, whether electrical or
mechanical
Machine
A machine manages power to accomplish a task, examples include, a mechanical system, a computing system, an electronic system, and a molecular machine. In common usage, the meaning is that of a device having parts that perform or assist in performing any type of work...
, including protective systems. There are two categories of equipment I for mining and II for surface industries. Manufacturers who apply its provisions and affix the
CE mark
CE mark
CE marking is a mandatory conformity mark for products placed on the market in the European Economic Area . With the CE marking on a product the manufacturer ensures that the product conforms with the essential requirements of the applicable EC directives...
ing and the Ex marking are able to sell their equipment anywhere within the European union without any further requirements being applied with respect to the risks covered being applied. The directive covers a large range of equipment, potentially including equipment used on fixed offshore platforms, in
petrochemical
Petrochemical
Petrochemicals are chemical products derived from petroleum. Some chemical compounds made from petroleum are also obtained from other fossil fuels, such as coal or natural gas, or renewable sources such as corn or sugar cane....
plants,
mine
Mining
Mining is the extraction of valuable minerals or other geological materials from the earth, from an ore body, vein or seam. The term also includes the removal of soil. Materials recovered by mining include base metals, precious metals, iron, uranium, coal, diamonds, limestone, oil shale, rock...
s, flour mills and other areas where a potentially explosive atmosphere may be present.
In very broad terms, there are three preconditions for the directive to apply: the equipment a) must have its own effective source of ignition; b) be intended for use in a potentially explosive atmosphere (air mixtures); and c) be under normal atmospheric conditions.
The directive also covers components essential for the safe use and safety devices directly contributing to the safe use of the equipment in scope. These latter devices may be outside the potentially explosive environment.
Manufacturers/suppliers (or importers, if the manufacturers are outside the EU) must ensure that their products meet essential
health
Health
Health is the level of functional or metabolic efficiency of a living being. In humans, it is the general condition of a person's mind, body and spirit, usually meaning to be free from illness, injury or pain...
and safety requirements and undergo appropriate conformity procedures. This usually involves testing and
certification
Certification
Certification refers to the confirmation of certain characteristics of an object, person, or organization. This confirmation is often, but not always, provided by some form of external review, education, assessment, or audit...
by a 'third-party' certification body (known as a Notified Body e.g.
Sira
Sira (group of British companies)
Sira is a UK-based Notified Body, specialising in ATEX, IECEX and North American product approvals. It began life as the British Scientific Instrument Research Association in 1918 and was once part of a larger group of British engineering companies, based in south London, that designed test...
,
Baseefa
Baseefa
Baseefa is a British certification body for equipment intended for use in potentially explosive atmospheres. It is based in Buxton, Derbyshire, England...
, Lloyd's,
TUV
Technischer Überwachungsverein
TÜVs are German organizations that work to validate the safety of products of all kinds to protect humans and the environment against hazards. As independent consultants, they examine plants, motor vehicles, energy installations, devices and products TÜVs (short for Technischer...
) but manufacturers/suppliers can 'self-certify' Category 3 equipment (technical dossier including drawings, hazard analysis and users manual in the local language) and Category 2 non-electrical equipment but for Category 2 the technical dossier must be lodged with a notified body. Once certified, the equipment is marked by the 'CE' (meaning it complies with ATEX and all other relevant directives) and 'Ex' symbol to identify it as approved under the ATEX directive. The technical dossier must be kept for a period of 10 years.
Certification ensures that the equipment or protective system is fit for its intended purpose and that adequate information is supplied with it to ensure that it can be used safely. There are four ATEX classification to ensure that a specific piece of equipment or protective system is appropriate and can be safely used in a particular application: 1. Industrial or Mining Application; 2. Equipment Category; 3. Atmosphere; and 4. Temperature.
Technical definitions
Effective ignition source
Effective ignition source
is a term defined in the European
ATEX
Atex
Atex is a company specializing in the development of advertising and content management systems. The company was established in Massachusetts in 1973 and grew to become a worldwide software supplier to the publishing industry...
directive as an event which, in combination with sufficient oxygen and fuel in gas, mist, vapor or dust form, can cause an explosion. Methane, hydrogen or coal dust are examples of possible fuels.
Effective ignition sources are:
Lightning strikes.
Open flames. This varies from a lit cigarette to welding activity.
Mechanically generated impact sparks. For example, a hammer blow on a rusty steel surface compared to a hammer blow on a flint stone. The speed and impact angle (between surface and hammer) are important; a 90 degree blow on a surface is relatively harmless.
Mechanically generated friction sparks. The combination of materials and speed determine the effectiveness of the ignition source. For example 4.5 m/s steel-steel friction with a force greater than 2 kN is an effective ignition source. The combination of aluminium and rust is also notoriously dangerous. More than one red hot spark is often necessary in order to have an effective ignition source.
Electric sparks. For example a bad electrical connection or a faulty pressure transmitter. The electric energy content of the spark determines the effectiveness of the ignition source.
High surface temperature. This can be the result of milling, grinding, rubbing, mechanical friction in a stuffing box or bearing, or a hot liquid pumped into a vessel. For example the tip of a lathe cutting tool can easily be 600 Celsius (1100 °F); a high pressure steam pipe may be above the autoignition temperature of some fuel/air mixtures.
Electrostatic discharge. Static electricity can be generated by air sliding over a wing, or a non-conductive liquid flowing through a filter screen.
Radiation.
Adiabatic compression. Air is pumped into a vessel and the vessel surface heats up.
External links