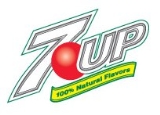 7 Up
7 Up
is a
brand
Brand
The American Marketing Association defines a brand as a "Name, term, design, symbol, or any other feature that identifies one seller's good or service as distinct from those of other sellers."...
of a
lemon-lime
Lemon-lime
Lemon-lime is a common carbonated soft drink flavor, consisting of lemon and lime flavoring. Sprite and 7 Up are the most popular examples.-Description:...
flavored non-caffeinated
soft drink
Soft drink
A soft drink is a non-alcoholic beverage that typically contains water , a sweetener, and a flavoring agent...
. The rights to the brand are held by
Dr Pepper Snapple Group
Dr Pepper Snapple Group
Dr Pepper Snapple Group Inc. is an American soft drink company, based in Plano, Texas.It was spun off from Britain's Cadbury Schweppes, on May 5, 2008, with trading in its shares starting on May 7, 2008...
in the United States, and
PepsiCo
PepsiCo
PepsiCo Inc. is an American multinational corporation headquartered in Purchase, New York, United States, with interests in the manufacturing, marketing and distribution of grain-based snack foods, beverages, and other products. PepsiCo was formed in 1965 with the merger of the Pepsi-Cola Company...
(or its licensees) in the rest of the world, including
Puerto Rico
Puerto Rico
Puerto Rico , officially the Commonwealth of Puerto Rico , is an unincorporated territory of the United States, located in the northeastern Caribbean, east of the Dominican Republic and west of both the United States Virgin Islands and the British Virgin Islands.Puerto Rico comprises an...
, where the concentrate is manufactured at the Pepsi facility in Cidra. The
7 Up
logo includes a red spot between the '7' and 'Up'; this red spot has been animated and used as a
mascot
Mascot
The term mascot – defined as a term for any person, animal, or object thought to bring luck – colloquially includes anything used to represent a group with a common public identity, such as a school, professional sports team, society, military unit, or brand name...
for the brand as
Cool Spot
Cool Spot
Cool Spot was a mascot for 7 Up beginning in the late 80s. During this time, the red spot in the 7 Up logo was anthropomorphized: given arms, legs, a mouth, and sunglasses....
.
7 Up was created by
Charles Leiper Grigg
Charles Leiper Grigg
Charles Leiper Grigg was the inventor of Bib-Label Lithiated Lemon-Lime soda, better known by its later name, 7 Up. He invented the drink in October 1929. Grigg became acquainted with the carbonated beverage business after moving to St. Louis, Missouri. Prior to inventing 7 Up, Grigg had created...
, who launched his
St. Louis
St. Louis, Missouri
St. Louis is an independent city on the eastern border of Missouri, United States. With a population of 319,294, it was the 58th-largest U.S. city at the 2010 U.S. Census. The Greater St...
-based company The Howdy Corporation in 1920.