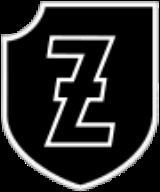 4th SS Polizei Division
The
SS Polizei Division
was one of the thirty-eight
divisions
Division (military)
A division is a large military unit or formation usually consisting of between 10,000 and 20,000 soldiers. In most armies, a division is composed of several regiments or brigades, and in turn several divisions typically make up a corps...
fielded as part of the
Waffen-SS
Waffen-SS
The Waffen-SS was a multi-ethnic and multi-national military force of the Third Reich. It constituted the armed wing of the Schutzstaffel or SS, an organ of the Nazi Party. The Waffen-SS saw action throughout World War II and grew from three regiments to over 38 divisions, and served alongside...
during
World War II
World War II
World War II, or the Second World War , was a global conflict lasting from 1939 to 1945, involving most of the world's nations—including all of the great powers—eventually forming two opposing military alliances: the Allies and the Axis...
.
The division was formed in 1939 as part of the
Ordnungspolizei
Ordnungspolizei
The Ordnungspolizei or Orpo were the uniformed regular police force in Nazi Germany between 1936 and 1945. It was increasingly absorbed into the Nazi police system. Owing to their green uniforms, they were also referred to as Grüne Polizei...
(uniformed national police). While all German police organizations were controlled by
Reichsführer SS
Heinrich Himmler
Heinrich Himmler
Heinrich Luitpold Himmler was Reichsführer of the SS, a military commander, and a leading member of the Nazi Party. As Chief of the German Police and the Minister of the Interior from 1943, Himmler oversaw all internal and external police and security forces, including the Gestapo...
in his capacity as Chief of German Police in the Interior Ministry, they were not at this time considered part of the SS, nor was the
Polizei-Division
on a par with the true Waffen-SS Divisions.