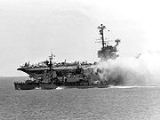 1967 USS Forrestal fire
The
1967 USS Forrestal fire
was a devastating fire and series of chain-reaction explosions on 29 July 1967 that killed 134 sailors and injured 161 on the
aircraft carrier
Aircraft carrier
An aircraft carrier is a warship designed with a primary mission of deploying and recovering aircraft, acting as a seagoing airbase. Aircraft carriers thus allow a naval force to project air power worldwide without having to depend on local bases for staging aircraft operations...
, after an unusual electrical anomaly discharged a
Zuni rocket
Zuni (rocket)
The Zuni is a unguided rocket deployed by the United States armed forces. The rocket was developed for both air-to-air and air-to-ground operations. It can be used to carry various types of warheads, including chaff for countermeasures. It is usually fired from the LAU-10 rocket pod holding four...
on the
flight deck
Flight deck
The flight deck of an aircraft carrier is the surface from which its aircraft take off and land, essentially a miniature airfield at sea. On smaller naval ships which do not have aviation as a primary mission, the landing area for helicopters and other VTOL aircraft is also referred to as the...
.
Forrestal
was engaged in combat operations in the
Gulf of Tonkin
Gulf of Tonkin
The Gulf of Tonkin is an arm of the South China Sea, lying off the coast of northeastern Vietnam.-Etymology:The name Tonkin, written "東京" in Hán tự and Đông Kinh in romanised Vietnamese, means "Eastern Capital", and is the former toponym for Hanoi, the capital of Vietnam...
during the
Vietnam War
Vietnam War
The Vietnam War was a Cold War-era military conflict that occurred in Vietnam, Laos, and Cambodia from 1 November 1955 to the fall of Saigon on 30 April 1975. This war followed the First Indochina War and was fought between North Vietnam, supported by its communist allies, and the government of...
at the time, and the damage exceeded
US$
United States dollar
The United States dollar , also referred to as the American dollar, is the official currency of the United States of America. It is divided into 100 smaller units called cents or pennies....
72 million (equivalent to $ million today) not including damage to aircraft.
Forrestal
had departed
Norfolk
Norfolk, Virginia
Norfolk is an independent city in the Commonwealth of Virginia in the United States. With a population of 242,803 as of the 2010 Census, it is Virginia's second-largest city behind neighboring Virginia Beach....
in early June.