 17 cm mittlerer Minenwerfer
The 17 cm mittlerer Minenwerfer (17 cm mMW) was a
mortar
Mortar (weapon)
A mortar is an indirect fire weapon that fires explosive projectiles known as bombs at low velocities, short ranges, and high-arcing ballistic trajectories. It is typically muzzle-loading and has a barrel length less than 15 times its caliber....
used by
Germany
Germany
Germany , officially the Federal Republic of Germany , is a federal parliamentary republic in Europe. The country consists of 16 states while the capital and largest city is Berlin. Germany covers an area of 357,021 km2 and has a largely temperate seasonal climate...
in
World War I
World War I
World War I , which was predominantly called the World War or the Great War from its occurrence until 1939, and the First World War or World War I thereafter, was a major war centred in Europe that began on 28 July 1914 and lasted until 11 November 1918...
.
Development and Use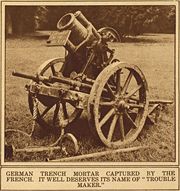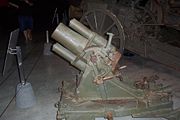 The weapon was developed for use by engineer troops after the
Siege of Port Arthur
Siege of Port Arthur
The Siege of Port Arthur , 1 August 1904 – 2 January 1905, the deep-water port and Russian naval base at the tip of the Liaotung Peninsula in Manchuria, was the longest and most violent land battle of the Russo-Japanese War....
during the
Russo-Japanese War
Russo-Japanese War
The Russo-Japanese War was "the first great war of the 20th century." It grew out of rival imperial ambitions of the Russian Empire and Japanese Empire over Manchuria and Korea...
of 1905. It illustrated the usefulness of this type of weapon in destroying bunkers and field fortifications otherwise immune to normal artillery. It was a muzzle-loading, rifled mortar that had a standard hydro-spring recoil system. It fired 50 kilogram (110 lb) HE shells, which contained far more explosive filler than ordinary artillery shells of the same caliber. The low muzzle velocity allowed for thinner shell walls, hence more space for filler. Furthermore, the low velocity allowed for the use of explosives like
Ammonium Nitrate
-
Carbon
Carbon
Carbon is the chemical element with symbol C and atomic number 6. As a member of group 14 on the periodic table, it is nonmetallic and tetravalent—making four electrons available to form covalent chemical bonds...
that were less shock-resistant than
TNT
, which was in short supply. This caused a large number of premature detonations that made crewing the minenwerfer riskier than normal artillery pieces.
A new version of the weapon, with a longer barrel, was put into production at some point during the war. It was called the 17 cm mMW n/A (neuer Art) or new pattern, while the older model was termed the a/A (alter Art) or old pattern. It is unclear what benefit this change had over the older version due to confusion in the sources.
In action the mMW was emplaced in a pit, after its wheels were removed, not less than 1.5 meters deep to protect it and its crew. It could be towed short distances by four men or carried by 17. Despite its extremely short range, the mMW proved to be very effective at destroying bunkers and other field fortifications. Consequently its numbers went from 116 in service when the war broke out to some 2,361 in 1918.
Surviving Examples
External links