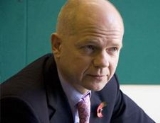 William Hague
Topics
William Hague
Quotations

Quotations
The Right Honourable
William Jefferson Hague
(born March 26, 1961) is a British politician, the Member of Parliament for Richmond, North Yorkshire, former leader of the Conservative Party, and currently Shadow Foreign Secretary. His skills at a debater and public speaker have been widely appluaded, especially his performances at Prime Minister's Questions which has been noted as some of the finest in parlimentary history.
Sourced
I was the driver's mate, delivering the bottles and beer around South Yorkshire. We used to have a pint at every stop – well the driver's mate did, not the driver, thankfully – and we used to have about 10 stops in a day. You worked so hard you didn't feel you'd drunk 10 pints by four o'clock, you used to sweat so much. But then you had to lift all the empties off the lorry. It's probably horrifying but we used to do that then go home for tea and then go out in the evening to the pub.

Interview, GQ magazine, August 2000
Reminiscing about his days delivering soft drinks for the family firm while a teenager. The interviewer asked whether that might make 14 pints a day and Hague agreed.
In the Prime Minister, we have a man who has forfeited the right to be believed or to be trusted. In more than 20 years in politics, he has betrayed every cause he believed in, contradicted every statement he has made, broken every promise he has given and breached every agreement that he has entered into. In 1982, the Prime Minister said that we would negotiate a withdrawal from the EEC. In 1994, he said: "Under my leadership, I will never allow this country to be isolated." In 1996, he said that he had made it clear that if it is in Britain's interest to be isolated then we will be isolated.There is a lifetime of U-turns, errors and sell-outs. All those hon. Members who sit behind the Prime Minister and wonder whether they stand for anything any longer, or whether they defend any point of principle, know who has led them to that sorry state. In one of his frequent meetings with the former leader of the Liberal party, whom he so much preferred to meeting his own Cabinet, the Prime Minister told us as it is. He said that he had taken from his party everything they thought they believed in and had stripped them of their core beliefs and that what kept them together was power.

6 December 2000, House of Commons, Prime Minister's Questions
I thank the Prime Minister for his remarks about me. Debating with him at the Dispatch Box has been exciting, fascinating, fun, an enormous challenge and, from my point of view, wholly unproductive in every sense. I am told that in my time at the Dispatch Box I have asked the Prime Minister 1,118 direct questions, but no one has counted the direct answers—it may not take long.

18 July 2001, House of Commons, Prime Minister's Questions
For the first time in history at Question Time, all three parties are represented by a stand-in for the real leader.

15 Febuary 2005, House of Commons, Prime Minister's Questions when he deputised for David Cameron in his absence. However, Tony Blair was answering questions and was the active leader of the Labour party. Hague was suggesting that Gordon Brown was the "true" power behind the party.
"Nothing is more absurd than a Prime Minister who has committed us in principle to joining the Euro saying last week that he was against it. He talks about his five tests; we know what they are: "Does Peter want it? Will Gordon let me? Will the French like it? Will Robin notice? Can I get away with it?"

25 October 2000, House of Commons, Prime Minister's Questions
To see how the post of a permanent President of the European Council could evolve is not difficult even for the humblest student of politics, and it is, of course, rumoured that one Tony Blair may be interested in the job. If that prospect makes us uncomfortable on the Conservative Benches, just imagine how it will be viewed in Downing street! I must warn Ministers that having tangled with Tony Blair across the Dispatch Box on hundreds of occasions, I know his mind almost as well as they do. I can tell them that when he goes off to a major political conference of a centre-right party and refers to himself as a socialist, he is on manoeuvres, and is busily building coalitions as only he can. We can all picture the scene at a European Council sometime next year. Picture the face of our poor Prime Minister as the name "Blair" is nominated by one President and Prime Minister after another: the look of utter gloom on his face at the nauseating, glutinous praise oozing from every Head of Government, the rapid revelation of a majority view, agreed behind closed doors when he, as usual, was excluded. Never would he more regret no longer being in possession of a veto: the famous dropped jaw almost hitting the table, as he realises there is no option but to join in. Then the awful moment when the motorcade of the President of Europe sweeps into Downing street. The gritted teeth and bitten nails: the Prime Minister emerges from his door with a smile of intolerable anguish; the choking sensation as the words, "Mr President", are forced from his mouth. And then, once in the Cabinet room, the melodrama of, "When will you hand over to me?" all over again.

Hansard, 21 Jan 2008, House of Commons: Column 1261-1263.
To Harriet Harman. "Before turning to domestic issues, I was going to be nice to the right hon. and learned Lady. She has had a difficult week. She had to explain yesterday that she dresses in accordance with wherever she is going: she wears a helmet on a building site, she wears Indian clothes in the parts of her constituency with a large representation of Indian people, so when she goes to a Cabinet meeting, she presumably dresses as a clown. As I said, I was going to be nice to her before her previous response."

02 April 2008, House of Commons, Prime Minister's Questions
Quotations about William Hague
To make matters worse, they have elected a foetus as the party leader. I bet a lot of them wish they had not voted against abortion now!
"if I were looking for advice on what to wear or what not to wear, the very last person I would look to is the man in the baseball cap." **Harriet Harman, 02 April 2008, House of Commons, Prime Minister's Questions