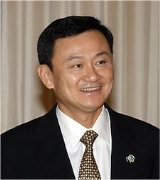 Thaksin Shinawatra
Topics
Thaksin Shinawatra
Quotations

Quotations
Thaksin Shinawatra
Thai politician, is the current prime minister of Thailand and the leader of the populist
Thai Rak Thai
party. As head of the Shin Corporation which controls (among others) Thailand's largest mobile phone operator
Advanced Info Service
(AIS), he was the richest man in Thailand before transferring ownership of the company to his family, maids & drivers.
1995
I will solve traffic problems in Bangkok within 6 months. -- said after appointed Deputy Prime Minister in the cabinet of Banharn Silpa-Archa.
2001
"Please forgive my honest mistake" -- tearfully said in Constitutional Court before the judgement in his assets (including stocks) case found under his housekeeper's and driver's names.
2003
"UN is not my father" -- in a reply to a reporter when asked to comment on the Human Rights Office of the UN going to send officers to observe the implementation of the Thai Anti-drug scheme. [March 2003]
2004
"Please don't intervene. Please leave us alone. It is my job and we can cope with this matter. We are trying to explain this to foreigners. But if they do not understand or ignore our explanation, I don't care because we are not begging them for food." -- [1 May, 2004], in a radio address concerning crackdowns on Islamic militants.
"Terrorists in the south are nothing but petty thieves"
"There are some who died because they were fasting, and they were crammed in tight." -- explaining the massacre in 2004 of 84 muslims crammed into military trucks
2005
"Those provinces that give their trust in Thai Ruk Thai will be our priorty" -- [31 Oct 2005] http://www.managerradio.com/Radio/DetailRadio.asp?program no=1026&mmsID=1026%2F1026%2D1090%2Ewma+&program id=2063
2006
"I only went to Singapore for shopping. I enjoyed the food and had a good time with my family." --[6 Jan 2006]
"I know nothing about a sell-off, but if the family were to dispose of the shares, I would do the same.", --[9 Jan 2006], said
Panthongtae Shinawatra
, the eldest son of Thaksin.
"I don't know. You'd better ask my children. I'm not the owner. They are." --[13 Jan 2006]
"I don't know. I've never told my children what to do. They normally advise me how things should be. They are the real owners. I still ask my wife for pocket money." --[13 Jan 2006]
"They may have to wait until the next life to see me resign. Everything will proceed according to the rules and regulations of this country." -- [14 Jan 2006]
"I won't get involved in any business. And my children, they have their own little businesses to take care of." --[25 Jan 2006]
"It's not as easy as selling khanom kheng ! (a Chinese sweet, used in Chinese New Year festival) How many purchasers do you think are out there? It's a 70-billion-baht deal. Who's going buy it? How many people on earth would have that kind of money?" --[25 Jan 2006]
"I have a lot of money so people are envy of me." -- Thaksin's respond to the public criticism on the scandal of 73-billion-Baht Shin Corp stocks deal sold to Singapore.--[25 Jan 2006]
"If only His Majesty the King whisper to me,
Please quit, Thaksin
, I will quit immediately," -- [4 Feb 2006] on radio address. http://www.managerradio.com/Radio/DetailRadio.asp?program no=1026&mmsID=1026%2F1026%2D1166%2Ewma&program id=2770
"I will not resign because my resignation will not resolve anything."
" It is a pity that some teachers nowadays are incompetent. They do not teach the right thing to students. As a result, those teachers are the ones that are going to destroy democracy", responded Thaksin after meeting with a group of university lecturers who supported him. This was stemmed from the incident that a large group of Chulalongkorn University's professors united to ask for him to resign since he didn't have righteousness anymore. -- [Feb 2006]
"We have received confirmation from all sources that the rumor of a coup is not true. The rumor was spread by some faction, but it is not true." -- First statement while in New York, following the news of the 2006 coup.
"I came here as prime minister but left as an unemployed man," said while leaving New York at 5 am local time on the day after his government in Bangkok was deposed in the
2006 Thailand coup d'état
while he was at the UN headquaters in New York, USA.
http://nationmultimedia.com/breakingnews/read.php?newsid=30014163
2008
"I have travelled around the world, but I have found that there is no other place as warm and happy to me as my home country. I want to live the rest of my life here," --Early 2008 return to face charges.
"If I still have luck, I would like to return to die in my motherland, just like any other Thai." --Statement from London after skipping bail.