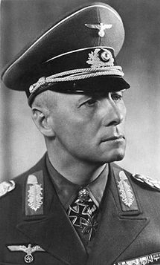 Erwin Rommel
Topics
Erwin Rommel
Quotations

Quotations
Erwin Johannes Eugen Rommel
(15 November 1891 – 14 October 1944) was a
German
Field Marshal
and commander of the Deutsches Afrika Korps in
World War II
. He is also known by his nickname
The Desert Fox (Der Wüstenfuchs).
Sourced
In a man to man fight, the winner is he who has one more round in his magazine.

Infanterie greift an (1937), translated as Infantry Attacks (1979); edited by Lee Allen, p.60
Courage which goes against military expediency is stupidity, or, if it is insisted upon by a commander, irresponsibility.

Letter (9 November 1942); as quoted in The Rommel Papers (1982) edited by Basil Henry Liddell Hart
In view of my services in Africa, I have the chance of dying by poison. Two generals have brought it with them. It is fatal in three seconds. If I take the poison, none of the usual steps will be taken against my family; that is, against you. They will also leave my staff alone.

Statement from Rommel's suicide note, choosing death by cyanide, rather than one involving the threatened persecution of his family and staff, after being implicated in a plot to assassinate Adolf Hitler.
Mortal danger is an effective antidote for fixed ideas.

As quoted in The Rommel Papers (1982) edited by Basil Henry Liddell Hart
The German soldier has impressed the world, however the Italian Bersagliere soldier has impressed the German soldier.

On the plaque dedicated to the Bersaglieri that fought at Mersa Matruh and Alamein.
[speaking about Italians] Good soldiers, bad officers; however don't forget that without them we would not have any Civilization.

As quoted in The Rommel Papers (1982) edited by Basil Henry Liddell Hart
About Rommel
We have a very daring and skillful opponent against us, and, may I say across the havoc of war, a great General.

Winston Churchill, during a 1942 debate in the British Parliament over a censure vote against Churchill for his failure to defeat Rommel. The vote failed.
Rommel was jumpy, wanted to do everything at once, then lost interest. Rommel was my superior in command in Normandy. I cannot say Rommel wasn't a good general. When successful, he was good; during reverses, he became depressed.
He was the best leader of fast-moving troops but only up to army level. Above that level it was too much for him. Rommel was given too much responsibility. He was a good commander for a corps of army but he was too moody, too changeable. One moment he would be enthusiastic, next moment depressed.
Anybody who came under the spell of his personality turned into a real soldier. He seemed to know what the enemy were like and how they would react.

Theodor Werner, an officer who, during World War I, served under Rommel