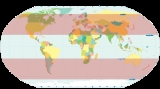 Temperate
adjective
(1)
Not extreme
"A moderate penalty"
"Temperate in his response to criticism"
(2)
Not extreme in behavior
"Temperate in his habits"
"A temperate response to an insult"
"Temperate in his eating and drinking"
(3)
(of weather or climate) free from extremes; mild; or characteristic of such weather or climate
"A temperate region"
"The temperate zones"
"Temperate plants"
Etymology
temperatus
, past participle of
temperare
. See
Temper
.
Adjective
temperate
Moderate; not excessive; as, temperate heat; a temperate climate.
Not marked with passion; not violent; cool; calm; as, temperate language.

She is not hot, but temperate as the morn. Shakespeare
That sober freedom out of which there springs Our loyal passion for our temperate kings. Alfred Tennyson.

Moderate in the indulgence of the natural appetites or passions; as, temperate in eating and drinking.

Be sober and temperate, and you will be healthy. Franklin.

Proceeding from temperance.