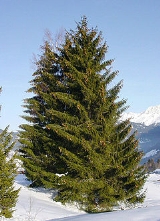 Spruce
adjective
(1)
Marked by up-to-dateness in dress and manners
"A dapper young man"
"A jaunty red hat"
noun
(2) Any coniferous tree of the genus Picea
(3) Light soft moderately strong wood of spruce trees; used especially for timbers and millwork
verb
(4)
Dress and groom with particular care, as for a special occasion
"He spruced up for the party"
(5)
Make neat, smart, or trim
"Spruce up your house for Spring"
"Titivate the child"
Etymology
From an alteration of
Pruce
("
Prussia
");
Spruce
,
spruse
(1412), and
Sprws
(1378) were generic terms for commodities brought to England by
Hanseatic merchants
(beer, wood, leather). The tree with this name was also believed to have been native to Prussia. The adjective and verb senses ("trim, neat" and "to make trim, neat") are attested from 1594, and originate with
spruce leather
(1466), which was used to make a popular style of
jerkin
s in the 1400s that was considered smart-looking.
Noun
Any of various large coniferous evergreen trees from the genus Picea, found in northern temperate and boreal regions; originally and more fully spruce fir.
The wood of a spruce.
Adjective
Made of the wood from a spruce.
Verb
(usually with up) to arrange neatly; tidy up
(usually with up) to make oneself spruce (neat and elegant in appearance)
to tease