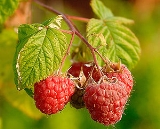 Raspberry
noun
(1) A cry or noise made to express displeasure or contempt
(2) Red or black edible aggregate berries usually smaller than the related blackberries
(3) Woody brambles bearing usually red but sometimes black or yellow fruits that separate from the receptacle when ripe and are rounder and smaller than blackberries
Etymology 1
From earlier
raspis berry
, possibly from
raspise
(a sweet rose-colored wine), from Anglo-
vinum raspeys
, of uncertain origin.
Noun
The plant Rubus idaeus.
The juicy, dark red (when ripe) composite fruit of this plant.
A dark pinkish red, the colour of a ripe raspberry.
Adjective
Containing or having the flavor/flavour of raspberries.
Of a dark pinkish red.

She wore a raspberry beret — lyrics of Raspberry Beret, by the musician Prince
See also
whitebark raspberry
Appendix:Colours
Noun
A noise intended to imitate the passing of flatulence, made by blowing air out of the mouth while the tongue is protruding from and pressed against the lips, or by blowing air through the lips while they are pressed firmly together or against skin.
Verb
Making the noise intended to imitate the passing of flatulence