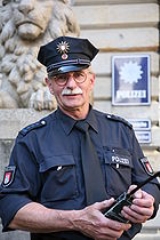 Police
noun
(1)
The force of policemen and officers
"The law came looking for him"
verb
(2) Maintain the security of by carrying out a control
Etymology
From , from , from .
Noun
An organisation granted the legal authority to enforce the law. See usage note.

Call the police!
The police operating in New York City operate under the New York City Police Department, several other City agencies and boards, and several public authorities.

Members of the police force.

Three police arrived in two cars.
The policewoman arrived in her car.

(plural=police) A police officer




Usage notes

Formerly a singular noun, police (#1) is now almost always used as a collective noun with a plural verb, as in "Run, the police are coming!"




Synonyms

the cobblers
the fuzz
the heat
peelers
woodentops (UK - referring to uniformed officers)
6-up




Related terms

political
politicize
politic




Verb





To enforce the law and keep order among (a group).

Extra security was hired to police the crowd at the big game.

To patrol or clean an area.

2006, Robert B. Parker, Hundred-Dollar Baby, Putnam, ISBN 0399153764, page 275,

"Fire off several rounds in a residential building and stop to police the brass?"