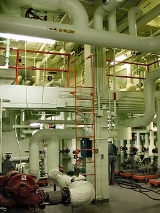 Piping
adjective
(1)
Resembling the music of a pipe
"The piping voices of children"
adverb
(2)
(used of heat) extremely
"The casserole was piping hot"
noun
(3) Playing a pipe or the bagpipes
(4) A long tube made of metal or plastic that is used to carry water or oil or gas etc.
(5) A thin strip of covered cord used to edge hems
Noun
The sound of musical pipes.
An act of making music or noise with pipes.
A system of pipes that compose a structure.
An ornamentation on pastry edges and seams.
Piped icing on a cake.
An ornamentation on the edges of a garment.
Adjective
High-pitched.

His piping voice could be heard above the hubbub.
Verb
piping
To dab away moisture.

1883: Robert Louis Stevenson, Treasure Island

Our chimney was a square hole in the roof: it was but a little part of the smoke that found its way out, and the rest eddied about the house, and kept us coughing and piping the eye.