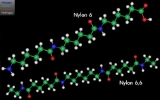 Nylon
noun
(1) A synthetic fabric
(2) A thermoplastic polyamide; a family of strong resilient synthetic fibers
Etymology
Arbitrary letters +
-on
(by analogy with
cotton
); the frequently heard claim that the word derives from abbreviations of
New York
("NY") and
London
("Lon") is a myth.
Noun
Originally, the DuPont company trade name for polyamide, a copolymer whose molecules consist of alternating diamine and dicarboxylic acid monomers bonded together; now generically used for this type of polymer.
A stocking originally fabricated from nylon; also used generically for any long, sheer stocking worn on a woman's legs.

They left the strip club when they discovered the ladies only stripped down to their nylons.
Noun
nylon