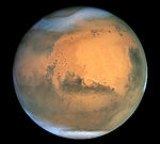 Mars
noun
(1)
A small reddish planet that is the 4th from the sun and is periodically visible to the naked eye; minerals rich in iron cover its surface and are responsible for its characteristic color
"Mars has two satellites"
(2) (Roman mythology) Roman god of war and agriculture; father of Romulus and Remus; counterpart of Greek Ares
Etymology 1
From , from older Latin (older than 75 BC) .
Mamers
was his
Oscan
name. He was also known as
Marmor
,
Marmar
and
Maris
, the latter from the Etruscan deity
Maris
.
Proper noun
The fourth planet in the solar system. Symbol: ♂
Etymology 2
After
Frank C. Mars
, who founded the company that produces these chocolate bars.
Proper noun
Mars
Quotations
1985 — Michael Collier, Longest Day, p 206

Easily eight foot tall, each was big, brown and glutinous - like giant Mars Bars squeezed and welded into nightmarish sculptures.