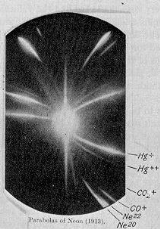 Isotope
noun
(1) One of two or more atoms with the same atomic number but with different numbers of neutrons
Etymology 1
From Greek ίσος (iso-, "equal", "same") + τόπος ("place"), because the different isotopes of a chemical element always occupy the same position in the
periodic table
of elements. Compare the synonymous Icelandic word .
Noun
Any of two or more forms of an element where the atoms have the same number of protons, but a different number of neutrons within thier nuclei. As a consequence, atoms for the same isotope will have the same atomic number but a different mass number (atomic weight).
Verb
To define or demonstrate an isotopy of (one map with another).
Adjective
isotopic (relating to isotopes)