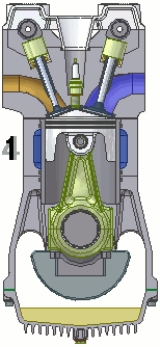 Engine
noun
(1) Motor that converts thermal energy to mechanical work
(2) A wheeled vehicle consisting of a self-propelled engine that is used to draw trains along railway tracks
(3)
Something used to achieve a purpose
"An engine of change"
English
Etymology
From < < < , past participle of ; see
ingenious
.
Engine
originally meant 'ingenuity, cunning' which eventually developed into meaning 'the product of ingenuity, a plot or snare' and 'tool, weapon'.
Noun
A mechanical device used to produce rotation to move vehicle or otherwise provide the force needed to generate kinetic energy.
A powered locomotive used for pulling cars on railways.
A person or group of people which influence a larger group.
the brain or heart.
A software system, not a complete program, responsible for a technical task (as in layout engine, physics engine).
Related terms