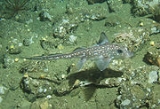 Chimaera
noun
(1) A deep-sea fish with a tapering body, smooth skin, and long threadlike tail
(2) A grotesque product of the imagination
(3) (Greek mythology) fire-breathing female monster with a lion's head and a goat's body and a serpent's tail; daughter of Typhon
Noun
Chimaera
: One of several species of fish of the sub-class Holocephali. Also known as ghost sharks.
----
Etymology
From from . The
fabulous
monster in Lycea (with a lion's head, a goat's body, and a serpent's tail). Meaning "wild fantasy" first recorded 1587.
Noun
Chimaera
: Fantastical monster in Lycea with the head of a lion, goat and serpent which vomited fire. Killed by the hero Bellerophon.