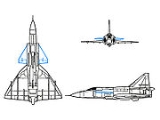 Canard (aeronautics)
noun
(1) A deliberately misleading fabrication
Etymology
From . It has been suggested that there was a French phrase "to half-sell a duck" which meant to
fool
or
cheat
someone.
Noun
A false or misleading report or story, especially if deliberately so.
A type of aircraft in which the primary horizontal control and stabilization surfaces are in front of the main wing.
Quotations
2005: It's a cinch, now that Spurling has cleared away a century's worth of misapprehensions and canards. — The New Yorker, 29 August 2005, page 78.
Etymology
From , which evolved from the Old French (from the Latin ). It has been suggested that the addition of the
c
enabled the word to be distinguished from .
Noun
duck (of either sex)
drake (male duck)