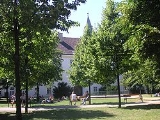 Campus
noun
(1) A field on which the buildings of a university are situated
Etymology
From
First used in its current sense in reference to Princeton University in the 1770's
Noun
The grounds or property of a school, college, university, business, church, or hospital, often understood to include buildings and other structures.

The campus is sixty hectares in size.

An institution of higher education and its ambiance.

During the late 1960s, many an American campus was in a state of turmoil.
Usage notes
Noun
Descendants