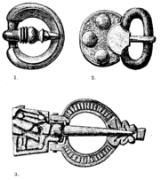 Buckle
noun
(1) Fastener that fastens together two ends of a belt or strap; often has loose prong
(2) A shape distorted by twisting or folding
verb
(3)
Bend out of shape, as under pressure or from heat
"The highway buckled during the heat wave"
(4)
Fold or collapse
"His knees buckled"
(5) Fasten with a buckle or buckles
Etymology
Noun: , from , diminutive of .
Verb: bokelen "to arch the body," from , from , from .
Noun
A clasp used for fastening two things together, such as the ends of a belt, or for retaining the end of a strap.
The brisure of an eighth daughter.
An upward, elongated displacement of a roof membrane frequently occurring over insulation or deck joints. A buckle may be an indication of movement with the roof assembly.
Verb
To fasten using a buckle.
To distort or collapse under physical pressure; especially, of a slender structure in compression.
To give in; to react suddenly or adversely to stress or pressure (of a person).

It is amazing that he has never buckled after so many years of doing such urgent work.