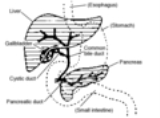 Bile
noun
(1) A digestive juice secreted by the liver and stored in the gallbladder; aids in the digestion of fats
Etymology
Mid 16th century, via , from .
Noun
A bitter brownish-yellow or greenish-yellow secretion produced by the liver, stored in the gall bladder, and discharged into the duodenum where it aids the process of digestion.
bitterness of temper; ill humour; irascibility.
Two of the four humours, black bile or yellow bile, in ancient and medieval physiology.