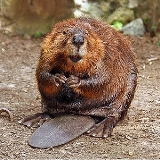 Beaver
noun
(1) Large semiaquatic rodent with webbed hind feet and a broad flat tail; construct complex dams and underwater lodges
(2) A hat made with the fur of a beaver (or similar material)
(3) A movable piece of armor on a medieval helmet used to protect the lower face
(4) A man's hat with a tall crown; usually covered with silk or with beaver fur
(5) A full beard
(6) A native or resident of Oregon
(7) The soft brown fur of the beaver
verb
(8) Work hard on something
Etymology 1
From , from . Cognate with Dutch , German .
Noun
The pubic hair and/or vulva of a woman.
Etymology 2
From , from .
Noun
The lower face-guard of a helmet.

1819: Without alighting from his horse, the conqueror called for a bowl of wine, and opening the beaver, or lower part of his helmet, announced that he quaffed it, "To all true English hearts, and to the confusion of foreign tyrants." — Walter Scott, Ivanhoe
Etymology 3
, from , from , present active infinitive of .