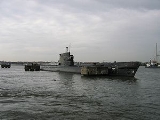 Zulu class submarine
The
Soviet Navy
Soviet Navy
The Soviet Navy was the naval arm of the Soviet Armed Forces. Often referred to as the Red Fleet, the Soviet Navy would have played an instrumental role in a Warsaw Pact war with NATO, where it would have attempted to prevent naval convoys from bringing reinforcements across the Atlantic Ocean...
's
Project 611
,
NATO reporting name
NATO reporting name
NATO reporting names are classified code names for military equipment of the Eastern Bloc...
Zulu class, were one of the first Soviet post-war attack submarines. They were roughly as capable as the American GUPPY fleet-boat conversions. They were a contemporary of the Whiskey class submarines and shared a similar sonar arrangement. Like the Whiskey, their design was influenced by the
German
Germany
Germany , officially the Federal Republic of Germany , is a federal parliamentary republic in Europe. The country consists of 16 states while the capital and largest city is Berlin. Germany covers an area of 357,021 km2 and has a largely temperate seasonal climate...
Type XXI U-boat of the
World War II
World War II
World War II, or the Second World War , was a global conflict lasting from 1939 to 1945, involving most of the world's nations—including all of the great powers—eventually forming two opposing military alliances: the Allies and the Axis...
era.
Six were converted in 1956 to become the world's first
ballistic missile submarine
Ballistic missile submarine
A ballistic missile submarine is a submarine equipped to launch ballistic missiles .-Description:Ballistic missile submarines are larger than any other type of submarine, in order to accommodate SLBMs such as the Russian R-29 or the American Trident...
s, one armed with a single R-11FM Scud missile and five others with two Scuds each. They were designated as Project AV 611 and received the NATO reporting name of Zulu V. The missiles were too long to be contained in the boat's hull, and extended into the enlarged sail. To be fired, the submarine had to surface and raise the missile out of the sail. Soviet submarine B-67 successfully launched a missile on 16 September 1955.
The Zulus were the basis for the very successful
Foxtrot class submarine
Foxtrot class submarine
The Foxtrot class was the NATO reporting name of a class of diesel-electric patrol submarines that were built in the Soviet Union. The Soviet designation of this class was Project 641....
, which lent their hull to the
Golf ballistic missile submarine class
Golf class submarine
Project 629, also known by the NATO reporting name of Golf class, were diesel electric ballistic missile submarines of the Soviet Navy. They were designed after six Zulu class submarines were successfully modified to carry and launch Scud missiles...
.
26 boats were built overall, entering service from 1952 to 1957, 8 of them in Leningrad and 18 in Severodvinsk.
External links