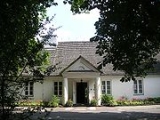 Zelazowa Wola
Żelazowa Wola
ż is a
village
Village
A village is a clustered human settlement or community, larger than a hamlet with the population ranging from a few hundred to a few thousand , Though often located in rural areas, the term urban village is also applied to certain urban neighbourhoods, such as the West Village in Manhattan, New...
in
Gmina Sochaczew
Gmina Sochaczew
Gmina Sochaczew is a rural gmina in Sochaczew County, Masovian Voivodeship, in east-central Poland. Its seat is the town of Sochaczew, although the town is not part of the territory of the gmina....
,
Sochaczew County
Sochaczew County
Sochaczew County is a unit of territorial administration and local government in Masovian Voivodeship, east-central Poland. It came into being on January 1, 1999, as a result of the Polish local government reforms passed in 1998. Its administrative seat and only town is Sochaczew, which lies ...
,
Masovian Voivodeship
Masovian Voivodeship
-Administrative division:Masovian Voivodeship is divided into 42 counties : 5 city counties and 37 "land counties"...
, in east-central Poland. It lies on the Utrata River, some 8 kilometres (5 mi) northeast of
Sochaczew
Sochaczew
Sochaczew is a town in central Poland, with 38,300 inhabitants . Situated in the Masovian Voivodeship , previously in Skierniewice Voivodeship . It is the capital of Sochaczew County....
and 46 km (29 mi) west of
Warsaw
Warsaw
Warsaw is the capital and largest city of Poland. It is located on the Vistula River, roughly from the Baltic Sea and from the Carpathian Mountains. Its population in 2010 was estimated at 1,716,855 residents with a greater metropolitan area of 2,631,902 residents, making Warsaw the 10th most...
. Żelazowa Wola has a population of 65.
The village is the birthplace of pianist and composer
Frédéric Chopin
Frédéric Chopin
Frédéric François Chopin was a Polish composer and virtuoso pianist. He is considered one of the great masters of Romantic music and has been called "the poet of the piano"....
, and of violinist
Henryk Szeryng
Henryk Szeryng
Henryk Szeryng was a Polish violinist.-Early years:He was born in Żelazowa Wola, Poland on 22 September 1918 into a wealthy family....
. It is known for its picturesque Masovian landscape, including numerous winding streams surrounded by willows and hills.
In 1909, in celebration of Chopin's centenary, Russian composer
Sergei Lyapunov
Sergei Lyapunov
Sergei Mikhailovich Lyapunov was a Russian composer and pianist.-Life:Lyapunov was born in Yaroslavl in 1859. After the death of his father, Mikhail Lyapunov, when he was about eight, Sergei, his mother, and his two brothers went to live in the larger town of Nizhny Novgorod...
wrote the
symphonic poem
Symphonic poem
A symphonic poem or tone poem is a piece of orchestral music in a single continuous section in which the content of a poem, a story or novel, a painting, a landscape or another source is illustrated or evoked. The term was first applied by Hungarian composer Franz Liszt to his 13 works in this vein...
,
Zhelazova Vola
(Żelazowa Wola), Op. 37 , "in memory of Chopin".
Housed in an annex to the Chopins' home, surrounded by a park, is a museum devoted to the composer. In summer, concerts of his music are performed by pianists from all over the world, who play inside the family home. In an adjacent park is a
monument to the pianist
Frédéric Chopin monument in Żelazowa Wola
The Frédéric Chopin monument at Żelazowa Wola is a notable Żelazowa Wola statue, located in a park adjacent to Chopin's birth house.-History:...
, designed by Józef Gosławski.
External links