 Yemin Moshe
Yemin Moshe
is an old neighborhood in
Jerusalem
,
Israel
Israel
The State of Israel is a parliamentary republic located in the Middle East, along the eastern shore of the Mediterranean Sea...
, overlooking the Old City.
History
Yemin Moshe was established in 1891 by
Moses Montefiore
Moses Montefiore
Sir Moses Haim Montefiore, 1st Baronet, Kt was one of the most famous British Jews of the 19th century. Montefiore was a financier, banker, philanthropist and Sheriff of London...
outside Jerusalem's Old City as a solution to the overcrowding and unsanitary conditions inside the walls, and eventually named for him. Few people were anxious to live there at the time, because the area was open to Arab marauders. The original houses were built with a wall around them and a gate that was locked at night.
Mishkenot Sha'ananim, as the first houses were known, consisted of two rows of buildings. The first was completed by 1860 and contained 28 apartments of one-and-a-half rooms. The compound also had a water
cistern
Cistern
A cistern is a waterproof receptacle for holding liquids, usually water. Cisterns are often built to catch and store rainwater. Cisterns are distinguished from wells by their waterproof linings...
with an iron pump imported from England, a mikveh and a communal oven.
The second row of houses was built in 1866 when a
cholera
Cholera
Cholera is an infection of the small intestine that is caused by the bacterium Vibrio cholerae. The main symptoms are profuse watery diarrhea and vomiting. Transmission occurs primarily by drinking or eating water or food that has been contaminated by the diarrhea of an infected person or the feces...
epidemic was at its height in the Old City. Some of the people who took up residence in the new neighborhood refused to stay there at night, but that year, the demand for apartments rose as illness spread.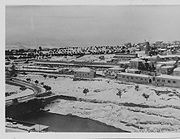 Landmarks
The Montefiore Windmill was built in Yemin Moshe with the idea of weaning the residents from their reliance on the
halukka
Halukka
The halukka was an organized distribution and collection of funds for the residents of the Yishuv haYashan in the Holy Land; which were organized into Kolelim...
, or charity. Moses Montefiore, the British Jewish philanthropist who founded the neighborhood, believed that a mill could provide them with a source of livelihood, but it never became operative.
Today
Yemin Moshe is now an upscale neighborhood surrounded by gardens with a panoramic view of the Old City walls. The original complex of buildings has been turned into a cultural center and guesthouse for writers, intellectuals and musicians.
External links