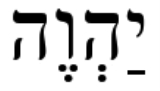 Yahweh
Yahweh
is the name of God in the
Bible
Bible
The Bible refers to any one of the collections of the primary religious texts of Judaism and Christianity. There is no common version of the Bible, as the individual books , their contents and their order vary among denominations...
, the God of Abraham, Isaac, Jacob, Jews and Christians.
The word Yahweh is a modern scholarly convention for the Hebrew , transcribed into Roman letters as YHWH and known as the
Tetragrammaton
Tetragrammaton
The term Tetragrammaton refers to the name of the God of Israel YHWH used in the Hebrew Bible.-Hebrew Bible:...
, for which the original pronunciation is unknown. The most likely meaning of the name may be "He Brings Into Existence Whatever Exists", but there are many theories and none is regarded as conclusive.