 Winemaker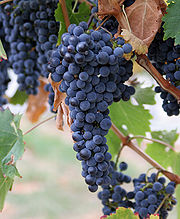 A
winemaker
or
vintner
is a person engaged in
winemaking
Winemaking
Winemaking, or vinification, is the production of wine, starting with selection of the grapes or other produce and ending with bottling the finished wine. Although most wine is made from grapes, it may also be made from other fruit or non-toxic plant material...
. They are generally employed by
wineries
Winery
A winery is a building or property that produces wine, or a business involved in the production of wine, such as a wine company. Some wine companies own many wineries. Besides wine making equipment, larger wineries may also feature warehouses, bottling lines, laboratories, and large expanses of...
or wine companies, where their work includes:
Cooperating with viticulturist

Viticulture

Viticulture is the science, production and study of grapes which deals with the series of events that occur in the vineyard. When the grapes are used for winemaking, it is also known as viniculture...


s
Monitoring the maturity of grapes to ensure their quality and to determine the correct time for harvest
Crushing and pressing

Fruit press

A fruit press is a device used to separate fruit solids - stems, skins, seeds, pulp, leaves, and detritus - from fruit juice.-Cider press:A cider press is used to crush apples or pears...


grapes
Monitoring the settling of juice

Grape juice

Grape juice is obtained from crushing and blending grapes into a liquid. The juice is often sold in stores or fermented and made into wine, brandy, or vinegar. In the wine industry, grape juice that contains 7-23 percent of pulp, skins, stems and seeds is often referred to as "must"...


and the fermentation of grape material
Filtering

Filter (chemistry)

In chemistry and common usage, a filter is a device that is designed to physically block certain objects or substances while letting others through. Filters are often used to remove solid substances suspended in fluids, for example to remove air pollution, to make water drinkable, and to prepare...


the wine to remove remaining solids
Testing the quality of wine by tasting

Wine tasting

Wine tasting is the sensory examination and evaluation of wine. While the practice of wine tasting is as ancient as its production, a more formalized methodology has slowly become established from the 14th century onwards...



Placing filtered wine in casks or tanks for storage and maturation
Preparing plans for bottling wine once it has matured
Making sure that quality is maintained when the wine is bottled
Today, these duties require an increasing amount of scientific knowledge, since laboratory tests are gradually supplementing or replacing traditional methods. Winemakers can also be referred to as oenologists as they study
oenology
Oenology
Oenology,[p] œnology , or enology is the science and study of all aspects of wine and winemaking except vine-growing and grape-harvesting, which is a subfield called viticulture. "Viticulture & oenology" is a common designation for training programmes and research centres that include both the...
- the science of wine.
Vigneron
A
vigneron
is someone who cultivates a
vineyard
Vineyard
A vineyard is a plantation of grape-bearing vines, grown mainly for winemaking, but also raisins, table grapes and non-alcoholic grape juice...
for winemaking. The word connotes or emphasizes the critical role that vineyard placement and maintenance has in the production of high-quality wine. The term, French for someone who works in a vineyard, is used in Australia and when referring to a winemaker from France.
Vincent of Saragossa
Vincent of Saragossa
Saint Vincent of Saragossa, also known as Vincent Martyr, Vincent of Huesca or Vincent the Deacon, is the patron saint of Lisbon. His feast day is 22 January in the Roman Catholic Church and Anglican Communion and 11 November in the Eastern Orthodox Churches...
is the
patron saint
Patron saint
A patron saint is a saint who is regarded as the intercessor and advocate in heaven of a nation, place, craft, activity, class, clan, family, or person...
of vignerons.