 William Heerlein Lindley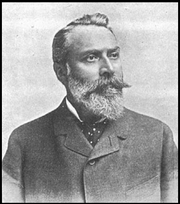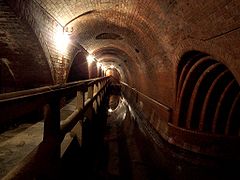 Sir William Heerlein Lindley
(30 January 1853 in
Hamburg
Hamburg
-History:The first historic name for the city was, according to Claudius Ptolemy's reports, Treva.But the city takes its modern name, Hamburg, from the first permanent building on the site, a castle whose construction was ordered by the Emperor Charlemagne in AD 808...
- 30 December 1917 in
London
London
London is the capital city of :England and the :United Kingdom, the largest metropolitan area in the United Kingdom, and the largest urban zone in the European Union by most measures. Located on the River Thames, London has been a major settlement for two millennia, its history going back to its...
) was a British civil engineer.
One of three sons of the famous British engineer
William Lindley
William Lindley
William Lindley , was a famous English engineer who together with his sons designed water and sewerage systems for over 30 cities across Europe.-Life:...
, WH Lindley worked together with his father on a number of projects and was a respected engineer in his own right. Between 1881 and 1889 he oversaw the construction of
Warsaw
Warsaw
Warsaw is the capital and largest city of Poland. It is located on the Vistula River, roughly from the Baltic Sea and from the Carpathian Mountains. Its population in 2010 was estimated at 1,716,855 residents with a greater metropolitan area of 2,631,902 residents, making Warsaw the 10th most...
waterworks, designed by his father in 1876-8. He oversaw the construction of the sewage works in
Prague
Prague
Prague is the capital and largest city of the Czech Republic. Situated in the north-west of the country on the Vltava river, the city is home to about 1.3 million people, while its metropolitan area is estimated to have a population of over 2.3 million...
, built between 1895 and 1906, which was in use until 1967. He also coordinated the project for
Baku
Baku
Baku , sometimes spelled as Baki or Bakou, is the capital and largest city of Azerbaijan, as well as the largest city on the Caspian Sea and of the Caucasus region. It is located on the southern shore of the Absheron Peninsula, which projects into the Caspian Sea. The city consists of two principal...
's water supply system, working from 1899 up until his death in 1917. In 1909 he also designed a water and sewerage system for Łódź, Poland, although the expense of the system meant the project was shelved until the 1920s.
Literature
Jaroslav Jásek: William Heerlein Lindley a pražská kanalizace (William Heerlein Lindley and sewage works in Prague), Scriptorium, Prague, 2006, ISBN 80-86197-65-4. A Czech language monograph.
Franz Lerner, William Heerlein Lindley (1853-1917). Umriss seines Lebens von Franz Lerner, in: Archiv für Frankfurts Geschichte und Kunst, Heft 49, Frankfurt am Main 1965, s. 123-133.
The Dictionary of National Biography, Oxford University Press, 2004, Vol. 33
Ryszard Żelichowski, Lindleyowie. Dzieje inżynierskiego rodu (The Lindleys. Works of a family of engineers), Warszawa 2002, ISBN 83-88794-91-4
External links