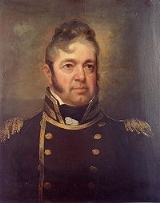 William Bainbridge
William Bainbridge
was a
Commodore
Commodore (USN)
Commodore was an early title and later a rank in the United States Navy and United States Coast Guard and a current honorary title in the U.S. Navy with an intricate history. Because the U.S. Congress was originally unwilling to authorize more than four ranks until 1862, considerable importance...
in the
United States Navy
United States Navy
The United States Navy is the naval warfare service branch of the United States Armed Forces and one of the seven uniformed services of the United States. The U.S. Navy is the largest in the world; its battle fleet tonnage is greater than that of the next 13 largest navies combined. The U.S...
, notable for his victory over
HMS Java
HMS Java (1811)
HMS Java was a British Royal Navy 38-gun fifth-rate frigate. She was originally launched in 1805 as the Renommée, described as a 40-gun Pallas-class French Navy frigate, but the vessel actually carried 46 guns...
during the
War of 1812
War of 1812
The War of 1812 was a military conflict fought between the forces of the United States of America and those of the British Empire. The Americans declared war in 1812 for several reasons, including trade restrictions because of Britain's ongoing war with France, impressment of American merchant...
.
Born in
Princeton, New Jersey
Princeton, New Jersey
Princeton is a community located in Mercer County, New Jersey, United States. It is best known as the location of Princeton University, which has been sited in the community since 1756...
, eldest son of Dr. Absalom Bainbridge and Mary (Taylor) Bainbridge. His father, a
loyalist
Loyalist (American Revolution)
Loyalists were American colonists who remained loyal to the Kingdom of Great Britain during the American Revolutionary War. At the time they were often called Tories, Royalists, or King's Men. They were opposed by the Patriots, those who supported the revolution...
during the American Revolution, served as a surgeon in the British Army and was convicted of
high treason
High treason
High treason is criminal disloyalty to one's government. Participating in a war against one's native country, attempting to overthrow its government, spying on its military, its diplomats, or its secret services for a hostile and foreign power, or attempting to kill its head of state are perhaps...
by the State of New Jersey and successfully filed for damages with the American Loyalist Claims Commission.