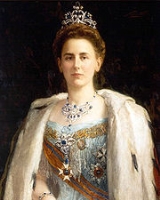 Wilhelmina of the Netherlands
Wilhelmina was
Queen regnant
Queen regnant
A queen regnant is a female monarch who reigns in her own right, in contrast to a queen consort, who is the wife of a reigning king. An empress regnant is a female monarch who reigns in her own right over an empire....
of the
Kingdom of the Netherlands
Kingdom of the Netherlands
The Kingdom of the Netherlands is a sovereign state and constitutional monarchy with territory in Western Europe and in the Caribbean. The four parts of the Kingdom—Aruba, Curaçao, the Netherlands, and Sint Maarten—are referred to as "countries", and participate on a basis of equality...
from 1890 to 1948. She ruled the Netherlands for fifty-eight years, longer than any other Dutch monarch. Her reign saw World War I and World War II, the
economic crisis of 1933
Great Depression in the Netherlands
The Great Depression was a period of severe economic crisis in the 1930s which affected countries around the world, including the Netherlands . In the United States the Stock Market Crash of 1929 is understood as the start of the Great Depression. But in the Netherlands the depression started more...
, and the decline of the Netherlands as a major
colonial empire
Dutch Empire
The Dutch Empire consisted of the overseas territories controlled by the Dutch Republic and later, the modern Netherlands from the 17th to the 20th century. The Dutch followed Portugal and Spain in establishing an overseas colonial empire, but based on military conquest of already-existing...
. Outside the Netherlands she is primarily remembered for her role in World War II, in which she proved to be a great inspiration to the
Dutch resistance
Dutch resistance
Dutch resistance to the Nazi occupation of the Netherlands during World War II can be mainly characterized by its prominent non-violence, summitting in over 300,000 people in hiding in the autumn of 1944, tended to by some 60,000 to 200,000 illegal landlords and caretakers and tolerated knowingly...
.
Princess Wilhelmina Helena Pauline Maria of the Netherlands, Princess of
Orange
Prince of Orange
Prince of Orange is a title of nobility, originally associated with the Principality of Orange, in what is now southern France. In French it is la Principauté d'Orange....
, Princess of Orange-Nassau, was born on 31 August 1880 in
The Hague
The Hague
The Hague is the capital city of the province of South Holland in the Netherlands. With a population of 500,000 inhabitants , it is the third largest city of the Netherlands, after Amsterdam and Rotterdam...
, Netherlands.