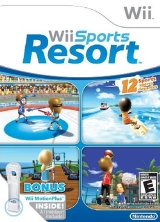 Wii Sports Resort
Wii Sports Resort
has received generally favorable reviews, with an average score on
Metacritic
Metacritic
Metacritic.com is a website that collates reviews of music albums, games, movies, TV shows and DVDs. For each product, a numerical score from each review is obtained and the total is averaged. An excerpt of each review is provided along with a hyperlink to the source. Three colour codes of Green,...
of 80%.
IGN
IGN
IGN is an entertainment website that focuses on video games, films, music and other media. IGN's main website comprises several specialty sites or "channels", each occupying a subdomain and covering a specific area of entertainment...
gave it a 7.7 out of 10, citing the impressive fidelity of the controls and how the graphics, as compared to the majority of Wii games, were superb.
GameTrailers
GameTrailers
GameTrailers is a media website that specializes in video game related content. It provides free access to original programming , game trailers and recorded game play. Along with standard definition , many of the video clips are offered in a higher resolution .Users can upload videos, create...
gave an 8.6 out of 10.
GameSpot
GameSpot
GameSpot is a video gaming website that provides news, reviews, previews, downloads, and other information. The site was launched in May 1, 1996 by Pete Deemer, Vince Broady and Jon Epstein. It was purchased by ZDNet, a brand which was later purchased by CNET Networks. CBS Interactive, which...
gave it an 8.0 out of 10.
Edge
Edge (magazine)
Edge is a multi-format computer and video game magazine published by Future Publishing in the United Kingdom. It is known for its industry contacts, editorial stance, distinctive anonymous third-person writing style, yearly awards and longevity....
magazine gave it a 6 out of 10. On
1UP.com
1UP.com
1UP.com is a video game website owned by IGN Entertainment, a division of News Corporation. Previously, the site was owned by Ziff Davis before being sold to UGO Entertainment in 2009....
, the average score between the editors reviews and users was an 'A-.' GamesRelay gave the game a score of 8.2, citing it to be a fun loving game for family and friends. SPOnG.com's Tim Smith awarded the game 90%, calling
Wii Sports Resort
and the MotionPlus peripheral "simple but welcome additions to the Wii's line-up". X-Play stated that "You'll have a good time playing solo, but the real fun begins when more people join in on the action" and that it applies to all the events.
In May 2010 the
American Heart Association
American Heart Association
The American Heart Association is a non-profit organization in the United States that fosters appropriate cardiac care in an effort to reduce disability and deaths caused by cardiovascular disease and stroke. It is headquartered in Dallas, Texas...
(AHA) endorsed the Wii to encourage sedentary people to take the first step toward fitness. The AHA heart icon covers the console itself along with two of its more active games,
Wii Fit Plus
Wii Fit Plus
is a fitness video game by Nintendo for the Wii console. The game is an enhanced version of Wii Fit and was announced at Nintendo's E3 2009 media briefing on June 2, 2009. The game was released in Japan on October 1, 2009 and in North America three days later on October 4. It was released in South...
and
Wii Sports Resort
.
Nintendo Power
Nintendo Power
Nintendo Power magazine is a monthly news and strategy magazine formerly published in-house by Nintendo of America, but now run independently. As of issue #222 , Nintendo contracted publishing duties to Future US, the U.S. subsidiary of British publisher Future.The first issue published was...
listed
Wii Sports Resort
along with its predecessor
Wii Sports
Wii Sports
is a sports game developed and published by Nintendo as a launch title for the Wii video game console , and part of the Touch! Generations. The game was first released in North America along with the Wii on November 19, 2006, and was released in Japan, Australia, and Europe the following month...
as being two of the greatest multi-player experiences in Nintendo history, stating that everyone can have fun with them, ranging from young children to grandparents. They also cite the wide range of sports available.
Sales
In Japan,
Wii Sports Resort
sold over 514,000 copies in two weeks. In North America it sold over 500,000 copies in its first week. As of August 8, 2009, the game has sold over 600,000 copies in Europe. Nintendo announced on August 25, 2009 that they had sold over one million units of the game in the United States, Japan and Europe individually. In September 2009,
Wii Sports Resort
sold 442,900 units.
In 2009 it sold 7.57 million copies, making it the world's second biggest selling game of that year. As of April 2011,
Wii Sports Resort
has sold over 27.63 million copies worldwide.
See also
Kinect Sports

Kinect Sports

Kinect Sports is a sports video game developed by Rare and published by Microsoft Game Studios for the Xbox 360. The game utilises the Kinect motion-sensing peripheral and was released in North America, Europe, Australasia and Japan in November 2010 as a launch title for Kinect.The game is a...



Sports Champions

Sports Champions

Sports Champions is a 2010 sports video game developed by San Diego Studio and Zindagi Games and published by Sony Computer Entertainment for PlayStation 3, which utilizes PlayStation Move. It was officially unveiled at the 2010 Game Developers Conference in San Francisco...



External links