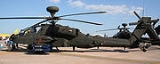 Westland WAH-64 Apache
The
AgustaWestland Apache
is a
licence-built
Licence-built
The term licence-built refers to an object manufactured by one organisation with the authorisation of the organisation that owns the intellectual property of the design...
version of the
Boeing
Boeing Integrated Defense Systems
Boeing Defense, Space & Security formerly known as Boeing Integrated Defense Systems is a unit of The Boeing Company responsible for defense and aerospace products and services. Boeing Integrated Defense Systems was formed in 2002 by combining the former "Military Aircraft and Missile Systems"...
AH-64D Apache Longbow
AH-64 Apache
The Boeing AH-64 Apache is a four-blade, twin-engine attack helicopter with a tailwheel-type landing gear arrangement, and a tandem cockpit for a two-man crew. The Apache was developed as Model 77 by Hughes Helicopters for the United States Army's Advanced Attack Helicopter program to replace the...
attack helicopter
Attack helicopter
An attack helicopter is a military helicopter with the primary role of an attack aircraft, with the capability of engaging targets on the ground, such as enemy infantry and armored vehicles...
for the
British Army's
British Army
The British Army is the land warfare branch of Her Majesty's Armed Forces in the United Kingdom. It came into being with the unification of the Kingdom of England and Scotland into the Kingdom of Great Britain in 1707. The new British Army incorporated Regiments that had already existed in England...
Army Air Corps. The first eight helicopters were built by Boeing; the remaining 59 were assembled by
Westland Helicopters
Westland Helicopters
Westland Helicopters was a British aerospace company. Originally Westland Aircraft, the company focused on helicopters after the Second World War. It merged with several other British firms in 1961...
(now part of
AgustaWestland
AgustaWestland
AgustaWestland is an Anglo-Italian helicopter design and manufacturing company. It was formed in July 2000 when Finmeccanica S.p.A. and GKN plc agreed to merge their respective helicopter subsidiaries to form AgustaWestland with Finmeccanica and GKN each holding a 50% share.AgustaWestland is now a...
) at
Yeovil
Yeovil
Yeovil is a town and civil parish in south Somerset, England. The parish had a population of 27,949 at the 2001 census, although the wider urban area had a population of 42,140...
,
Somerset
Somerset
The ceremonial and non-metropolitan county of Somerset in South West England borders Bristol and Gloucestershire to the north, Wiltshire to the east, Dorset to the south-east, and Devon to the south-west. It is partly bounded to the north and west by the Bristol Channel and the estuary of the...
in England from Boeing-supplied kits. Changes from the AH-64D include Rolls-Royce engines, a new electronic defensive aids suite and a folding blade mechanism allowing the British version to operate from ships. The helicopter was named "WAH-64" by Westland Helicopters. It is
designated
British military aircraft designation systems
British military aircraft designations are used to refer to aircraft types and variants operated by the armed forces of the United Kingdom.Since the end of the First World War, aircraft types in British military service have generally been known by a name British military aircraft designations are...
Apache AH Mk 1
(or shortened to
Apache AH1
) by the Ministry of Defence.
The Apache has become a valued form of
close air support
Close air support
In military tactics, close air support is defined as air action by fixed or rotary winged aircraft against hostile targets that are close to friendly forces, and which requires detailed integration of each air mission with fire and movement of these forces.The determining factor for CAS is...
in the continuing conflict in
Afghanistan
Afghanistan
Afghanistan , officially the Islamic Republic of Afghanistan, is a landlocked country located in the centre of Asia, forming South Asia, Central Asia and the Middle East. With a population of about 29 million, it has an area of , making it the 42nd most populous and 41st largest nation in the world...
, being deployed to the region since 2006. The Apache has been an object of controversy over the fitting of some munitions, such as
cluster bomb
Cluster bomb
A cluster munition is a form of air-dropped or ground-launched explosive weapon that releases or ejects smaller sub-munitions. Commonly, this is a cluster bomb that ejects explosive bomblets that are designed to kill enemy personnel and destroy vehicles...
s and thermobaric weapons. Naval trials and temporary deployments at sea have proven the aircraft as an able platform to operate from the decks of ships, a capability so far unique amongst Apache operators. British Apaches served in the NATO
2011 military intervention in Libya
2011 military intervention in Libya
On 19 March 2011, a multi-state coalition began a military intervention in Libya to implement United Nations Security Council Resolution 1973, which was taken in response to events during the 2011 Libyan civil war...
operating from
Royal Navy
Royal Navy
The Royal Navy is the naval warfare service branch of the British Armed Forces. Founded in the 16th century, it is the oldest service branch and is known as the Senior Service...
ships.
Development
The requirement for a new attack helicopter was identified by the British government in the early 1990s. In 1993, invitations to bid were issued. Bids received included the
Eurocopter Tiger
Eurocopter Tiger
The Eurocopter Tiger is an attack helicopter manufactured by Eurocopter. In Germany it is known as the Tiger; in France and Spain it is called the Tigre.-Origins:...
, a modernised Bell AH-1 SuperCobra, the Boeing AH-64 Apache, the Boeing/Sikorsky RAH-66 Comanche, and the
Agusta A129 Mangusta
. Both the Tiger and Cobra variant were derided for requiring development, and thus risk, while the Apache was combat proven, however its performance in the First Gulf War was criticised by competitors. Westland and the Apache was selected in July 1995, a contract for 67 helicopters was signed in 1996. The first prototype WAH-64 Apache was produced by Westland, under licence from Boeing, in September 1998. The first nine Apache AH Mk1 helicopters were authorised for service by the director of British Army Aviation on 16 January 2001. The 67th and final Apache was handed over to the British Army in July 2004. The cost of the helicopter fleet was around £3.1 billion, with a total acquisition cost of £4.1 billion. Reliability had become questioned by US Apache operations, the entire fleet in the Balkans had been grounded due to serious failures with the tail rotor. In 1998, the development of the Longbow radar had ran into problems regarding its weight, impact upon overall agility, and the ability to transfer data was non-functional. These problems with important parts of the aircraft, and the high cost for the fleet, led to calls for its cancellation in 1999.
When the requirement for the Apache has been formalised in the early 1990s, military doctrine assumed that a large conventional armoured assault from the
Eastern Bloc
Eastern bloc
The term Eastern Bloc or Communist Bloc refers to the former communist states of Eastern and Central Europe, generally the Soviet Union and the countries of the Warsaw Pact...
was Britain's main threat. Following the collapse and break-up of the Soviet Union, the concepts of flexibility and rapid response took precedence. The UK's
Strategic Defence Review
Strategic Defence Review
The Strategic Defence Review was a British policy document produced by the Labour Government that came to power in 1997. Then Secretary of State for Defence, George Robertson, set out the initial defence policy of the new government, with a series of key decisions designed to enhance the United...
called for Apaches to undertake amphibious attack missions, operating from the
helicopter carrier
Helicopter carrier
Helicopter carrier is a term for an aircraft carrier whose primary purpose is to operate helicopters. The term is sometimes used for both ASW carriers and amphibious assault ships....
HMS Ocean
HMS Ocean (L12)
HMS Ocean of the Royal Navy is an amphibious assault ship , the sole member of her class. She is designed to support amphibious landing operations and to support the staff of Commander UK Amphibious Force and Commander UK Landing Force...
, the
Invincible class
Invincible class aircraft carrier
The Invincible class is a class of light aircraft carrier operated by the British Royal Navy. Three ships were constructed, , and . The vessels were built as aviation-capable anti-submarine warfare platforms to counter the Cold War North Atlantic Soviet submarine threat, and initially embarked...
aircraft carriers and their successors, the
Queen Elizabeth
class aircraft carriers, and possibly the amphibious assault vessels
HMS Bulwark
HMS Bulwark (L15)
HMS Bulwark is an , the UK's newest class of amphibious assault warship and built in Barrow-in-Furness, Cumbria. For numerous reasons, delays caused the delivery date to be put back, with the ship entering service in December 2004. Together with Albion, Ocean, and other amphibious ships, she...
and
Albion
HMS Albion (L14)
HMS Albion is a Landing Platform Dock of the Royal Navy, the first of the two-ship Albion class. Built by BAE Systems Marine in Barrow-in-Furness, Albion was launched in March 2001 by the Princess Royal...
. Each squadron equipped with the Apache should have eight operational aircraft.
The WAH-64 experienced delays in entering service due to complications with the modifications made for British service. Prior entering service in 2004, several development problems were noted, including a lack of the ability to securely communicate with other helicopters and a risk of damage to the tail rotor and airframe from firing its Hellfire missiles. The problem with using the Hellfire was debris generated by the firing of missiles, both the Hellfire and CVR7 rockets, could strike the body of the aircraft and cause damage; resolving this issue created a delay to training programs. These problems were corrected prior to entering service, a secure communications suite was been installed and Hellfire missiles are routinely fired by WAH-64s. In 2002, government sources stated that full operational capability was set to be achieved by 2010. In 2005, an out-of-service date for the Apache was forecast at 2030, however the service life could be extended by decades if a major life-extension upgrade is performed.
Design
Several deviations were made to the standard Apache design used by the US and those exported to other countries. One major difference is the use of a pair of Rolls-Royce Turbomeca RTM322 01/12 engines, replacing the original
General Electric T700-GE-701C
engines. The Rolls-Royce engine produces 1565 kW vs 1410 kW for the GE T700C engine. Unlike many helicopters used by coalition forces in Afghanistan, the Apache required less modification to serve in the region due to special filters incorporated into the design. Another change is the folding blade mechanism to stow the helicopters in confined spaces; the rotor blades also have anti-ice protection to allow operations in Arctic environments.
There were changes made to the sensor and avionics outfitting the craft as well; connectivity with the
BOWMAN secure communications system
Bowman (communications system)
Bowman is the name of the tactical communications system used by the British Armed Forces.The Bowman C4I system consists of a range of HF radio, VHF radio and UHF radio sets designed to provide secure integrated voice, data services to dismounted soldiers, individual vehicles and command HQs up to...
to interact with other British military units being a significant one. The
SELEX
SELEX Sensors and Airborne Systems
SELEX Galileo is a major defence electronics company that specialises in surveillance, protection, tracking, targeting, navigation and control, and imaging systems. It is owned by the Italian company Finmeccanica....
(formerly
BAE Systems
BAE Systems
BAE Systems plc is a British multinational defence, security and aerospace company headquartered in London, United Kingdom, that has global interests, particularly in North America through its subsidiary BAE Systems Inc. BAE is among the world's largest military contractors; in 2009 it was the...
Avionics) Helicopter Integrated
Defensive Aids System
Defensive Aids System
A defensive aids system is a military aircraft system which defends it from attack by surface-to-air missiles, air-to-air missiles and guided anti-aircraft artillery. A DAS typically comprises chaff, flares, and electronic countermeasures combined with radar warning receivers to detect threats...
(HIDAS) was also fitted. The HIDAS system was retrofitted onto the aircraft in mid-2004 just prior to entering service, along with several redesigned composite bodywork components. An eye-safe training
laser
Laser
A laser is a device that emits light through a process of optical amplification based on the stimulated emission of photons. The term "laser" originated as an acronym for Light Amplification by Stimulated Emission of Radiation...
to allow the Apache to function as a target designator was also installed.
Instead of the American
Hydra 70
Hydra 70
The Hydra 70 rocket is a weapon derived from the 70 mm Mk 4/Mk 40 Folding-Fin Aerial Rocket developed by the United States Navy for use as a free-flight aerial rocket in the late 1940s.-Overview:...
rocket pods, the Westland Apache can carry up to 76
CRV7
CRV7
The CRV7, short for "Canadian Rocket Vehicle 7", is a 2.75 inch folding-fin ground attack rocket produced by Bristol Aerospace in Winnipeg, Manitoba. It was introduced in the early 1970s as an upgraded version of the standard US 2.75 inch air-to-ground rockets...
rockets. The CRV7 is a controversial weapon as it has been classified as a
cluster bomb
Cluster bomb
A cluster munition is a form of air-dropped or ground-launched explosive weapon that releases or ejects smaller sub-munitions. Commonly, this is a cluster bomb that ejects explosive bomblets that are designed to kill enemy personnel and destroy vehicles...
; it is alleged that a single Apache could deliver as many as 684 bomblets in one attack. In May 2008, several senior officers, such as General
David Ramsbotham
David Ramsbotham, Baron Ramsbotham
General David John Ramsbotham, Baron Ramsbotham GCB CBE is a retired British Army officer, who later served as Her Majesty's Chief Inspector of Prisons...
spoke out against British plans to keep the weapon. In the same month, Britain, as one of the 111 participating nations, agreed to ban cluster bombs on humanitarian grounds.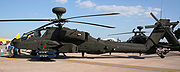 Like the US AH-64D Apache Longbows, the Apache AH Mk 1 carries a
fire-control radar
Fire-control radar
A fire-control radar is a radar which is designed specifically to provide information to a fire-control system in order to calculate a firing solution...
(FCR) and Radar Frequency Interferometer (RFI), providing an integrated surveillance and attack system. The 'Longbow' radar is the bulbous unit over the rotor hub assembly; radar placement above the rotors allows the Apache to hover behind cover scanning for targets, with only the radar unit exposed. Additionally, the Longbow radar can monitor traffic in the Apache's airspace. The radar can also be used for surveillance and terrain profiling. A modem is interfaced into the Longbow radar and other sensor systems to relay information to other aircraft, this allows other Apaches to fire on targets identified by only a single helicopter.
AgustaWestland have since made several upgrades to Britain's Apache fleet. In May 2005, a $212 million contract was awarded to equip all 67 Mk1 helicopters with the
Apache Arrowhead
Apache arrowhead
The Apache Arrowhead , is an integrated targeting and night vision system developed by Lockheed Martin for the Boeing AH-64 Apache attack helicopter...
sensor system upgrade, to be completed by 2010. In 2009, it was announced that AgustaWestland was also integrating new external fuel tanks with ballistic protection. Some of the internal fuel tanks can be removed, WAH-64s in Afghanistan may have these removed to allow for extra ammunition for the cannon to be fitted. It has been suggested that advanced rotor blades and additional controls to improve the agility of the aircraft may be fitted in a mid-life update of the fleet.
Overview
In May 2005, the first Apache-equipped regiment achieved operational status. The Westland Apache has replaced the
Westland Lynx AH7
Westland Lynx
The Westland Lynx is a British multi-purpose military helicopter designed and built by Westland Helicopters at its factory in Yeovil. Originally intended as a utility craft for both civil and naval usage, military interest led to the development of both battlefield and naval variants...
as the British Army's tactical attack helicopter. The Apache is currently operated by two regiments of the Army Air Corps (3 Regt AAC and 4 Regt AAC) as part of
16 (Air Assault) Brigade
British 16 Air Assault Brigade
16 Air Assault Brigade is a formation of the British Army based in Colchester in the county of Essex. It is the Army's rapid response airborne formation and is the only Operational Brigade in the British Army capable of delivering Air Manoeuvre, Air Assault and Airborne operations.It was formed as...
. The Apache is intended to operate in the armed reconnaissance and attack roles, similar to the US usage of Apaches during the 1991 Gulf War. Unlike US versions, the Westland Apache has been navalised and now serves aboard
Royal Navy
Royal Navy
The Royal Navy is the naval warfare service branch of the British Armed Forces. Founded in the 16th century, it is the oldest service branch and is known as the Senior Service...
ships in addition to its land-based role. It achieved maritime certification in December 2005 aboard
HMS Ocean
HMS Ocean (L12)
HMS Ocean of the Royal Navy is an amphibious assault ship , the sole member of her class. She is designed to support amphibious landing operations and to support the staff of Commander UK Amphibious Force and Commander UK Landing Force...
. On 17 November 2006,
HMS Ark Royal
HMS Ark Royal (R07)
HMS Ark Royal is a decommissioned light aircraft carrier and former flagship of the Royal Navy. She was the third and final vessel of Invincible-class...
became the first aircraft carrier to land an Apache AH Mk 1.
In August 2006, the intense usage of Apaches in Afghanistan led to British commanders admitting that weapons and spare parts were being used at a far greater rate, and subsequently a greater cost, than anticipated. On 11 November 2007, it was reported that half of the Apache gunships in British service had been grounded as they had fallen below the level considered "fit for purpose", along with several other British Helicopters such as the Chinook and Merlin HC3. A year later in November 2008 the situation had declined further, out of 67 aircraft only 20 were available for combat operations. In late 2009, AgustaWestland was awarded a contract to transfer support services for the Apache and many of its components such as the Longbow radar, in-house; in the following months senior officers reflected that this organisation change had resulted in higher availability. In June 2011, civilian engineers maintaining the Apaches at RAF Wattisham threatened to conduct
industrial action
Industrial action
Industrial action or job action refers collectively to any measure taken by trade unions or other organised labour meant to reduce productivity in a workplace. Quite often it is used and interpreted as a euphemism for strike, but the scope is much wider...
and strikes over a pay dispute.
In October 2008 it was announced that
Prince Harry
Prince Harry of Wales
Prince Henry of Wales , commonly known as Prince Harry, is the younger son of Charles, Prince of Wales and the late Diana, Princess of Wales, and fourth grandchild of Queen Elizabeth II and Prince Philip, Duke of Edinburgh...
had begun the process of qualifying to become an Apache pilot. In May 2010, the terrorist organisation Al Qaeda theatened to abduct the prince if he piloted an Apache in Afghanistan. In April 2011, Prince Harry was promoted to Captain following his completion of Apache conversion training. In June 2011, sections of the media reported that Prince Harry is to deploy to Afghanistan as an Apache pilot in 2012.
Afghanistan
The Apache's first operational tour was as part of 16 Air Assault Brigade in Afghanistan; there were eight Apache AH1s deployed in Afghanistan in February 2007. These were drawn from
No. 656 Squadron
No. 656 Squadron AAC
656 Squadron is a unit of the British Army Air Corps. It was chosen as one of the AAC new Apache Squadrons and in April 2004 started its conversion to role. The first phase of this completed in October 2004...
and No. 664 Squadron of 9 Regiment AAC, based at
RAF Dishforth
RAF Dishforth
Dishforth Airfield is a Royal Air Force/British Army station in North Yorkshire, England. It is currently an Army Air Corps helicopter base and a Relief Landing Ground for RAF Linton-on-Ouse. It is located next to the A1 at Junction 49 with the A168. Dishforth airfield is built over part of the...
. Unlike their American counterparts in Afghanistan, the Apache AH Mk 1 is deployed with its Longbow Fire Control Radar to enable the pilot to better manage traffic in their airspace. Initially pilots had to often fly for 16–18 hours at a time due to the low number of Apaches in the theatre; typically each Apache would be stationed in Afghanistan for eight weeks before returning to Britain for roughly eight weeks of maintenance. On 22 May 2006, a UK Apache operating in Afghanistan's
Helmand province
Helmand Province
Helmand is one of the 34 provinces of Afghanistan. It is in the southwest of the country. Its capital is Lashkar Gah. The Helmand River flows through the mainly desert region, providing water for irrigation....
used a Hellfire missile to destroy an abandoned French vehicle to protect sensitive equipment.
The Apache quickly became a highly valued tool against insurgents, able to escort ground and air forces and rapidly respond to Taliban forces on the ground. Major Huw Williams, second in command of
3rd Battalion, The Parachute Regiment
3rd Battalion, The Parachute Regiment
The 3rd Battalion, The Parachute Regiment is a battalion sized formation of the British Army's Parachute Regiment and subordinate unit within 16 Air Assault Brigade....
, stated that: "We're really impressed [with the Apache]. It's a very effective beast." It has been noted that Taliban forces refer to the aircraft as the "Mosquito". Although the Apaches have become targets for insurgents, as of November 2008 no British Apaches have been lost to enemy fire. In September 2008, an Apache was seriously damaged by a crash shortly following takeoff in Helmand province, no loss of life occurred.
On 13 January 2007, a 200-strong British force, led by
Royal Marines
Royal Marines
The Corps of Her Majesty's Royal Marines, commonly just referred to as the Royal Marines , are the marine corps and amphibious infantry of the United Kingdom and, along with the Royal Navy and Royal Fleet Auxiliary, form the Naval Service...
, launched an operation to attack Jugroom Fort, a major Taliban base in southern Helmand Province. After several hours of intense fighting, the Marines regrouped and it was discovered that
Lance Corporal
Lance Corporal
Lance corporal is a military rank, used by many armed forces worldwide, and also by some police forces and other uniformed organizations. It is below the rank of corporal, and is typically the lowest non-commissioned officer, usually equivalent to the NATO Rank Grade OR-3.- Etymology :The presumed...
Mathew Ford of
45 Commando Royal Marines
45 Commando
45 Commando Royal Marines is a battalion sized unit of the British Royal Marines and subordinate unit within 3 Commando Brigade Royal Marines, the principal Commando formation, under the Operational Command of Commander in Chief Fleet....
was missing. A rescue mission was launched using four volunteers, Royal Marines and a Royal Engineer, strapped to the stub-wings of two Apaches. The helicopters could not travel above 50 mph to ensure the safety of the extra passengers from
rotor downwash
Downwash
In aeronautics downwash is the air forced down by the aerodynamic action of a wing or helicopter rotor blade in motion, as part of the process of producing lift....
. The Apaches landed under fire inside the compound, after which the rescuers dismounted and recovered the body of LCpl Ford. Ford's body was flown out in the same manner that the soldiers arrived. Other Apaches hovered above, providing suppressive fire throughout. None of the rescuers were injured in the recovery mission and they were later hailed for their bravery.
In May and June 2008, British and
Afghan National Army
Afghan National Army
The Afghan National Army is a service branch of the military of Afghanistan, which is currently trained by the coalition forces to ultimately take the role in land-based military operations in Afghanistan. , the Afghan National Army is divided into seven regional Corps. The strength of the Afghan...
forces conducted Operation Eagle's Eye, aimed at disrupting Taliban activities to the south of Musa Qaleh; a key portion of which was a major night-time helicopter raid, rapidly deploying members of 2nd Battalion, Parachute Regiment into the town. In June 2008, a British Apache fired a thermobaric Hellfire missile; the controversial usage of such weapons was approved after extensive legal and ethical evaluations within the MOD. In June 2008, a Taliban leader and several cell members were killed in Helmand Province by a Hellfire missile launched by an Apache of the 664 Army Air Corps. There was a
friendly fire
Friendly fire
Friendly fire is inadvertent firing towards one's own or otherwise friendly forces while attempting to engage enemy forces, particularly where this results in injury or death. A death resulting from a negligent discharge is not considered friendly fire...
incident in July 2008, in which an Apache fired upon a position thought to be held by enemy forces, but instead hit members of a British patrol. This was the first time that a British aircraft had been involved in a blue-on-blue incident in Afghanistan.
In early to mid 2009, several narcotics and bomb-making facilities were raided by British forces, supported by Apaches. In April 2009, it was reported that an Apache had been used to intercept a suicide bombing attack in Helmand province. During the Summer of 2009, British Apaches were an integral component of
Operation Panther's Claw
Operation Panther's Claw
Operation Panchai Palang, or Panther's Claw, was a British-led military operation of the Afghan War in Helmand Province in southern Afghanistan. It aimed to secure various canal and river crossings to establish a permanent International Security Assistance Force presence in the area...
, which was aimed at pushing insurgents out of civilian areas in the runup to the
2009 Afghan Elections
Afghan presidential election, 2009
The 2009 presidential election in Afghanistan was characterized by lack of security, low voter turnout and widespread ballot stuffing, intimidation, and other electoral fraud....
. During this major offensive, Apaches from the UK rountinely flew alongside US Cobra helicopters to provide air support to soldiers of
3rd Battalion Black Watch
Black Watch
The Black Watch, 3rd Battalion, Royal Regiment of Scotland is an infantry battalion of the Royal Regiment of Scotland. The unit's traditional colours were retired in 2011 in a ceremony led by Queen Elizabeth II....
and the Royal Marines conducting ground operations. During the Summer 2009 operations, a senior Taliban leader, Mullah Mansur, and several accomplices were killed in a precision strike launched by an Apache.
On 13 October 2010, newspapers reported that Army Air Corps maintenance workers had accidentally sent a live CRV7 missile in regular mail from Camp Bastion to the UK, a mistake which inspections had missed four times; when the missile was discovered it sparked an evacuation, the MOD later changed procedure in regards to the incident. On 25 July 2011, the MOD announced that during a combat operation in the Nahr-e-Saraj district of Helmand province, several Afghan children had been injured from crossfire by an Apache; they were flown to Camp Bastion for medical treatment.
Naval operations and Libya
In May 2011, the MOD announced that the Apache fleet had reached 100,000 hours flying time, and was described a "vital battlefield tool in Afghanistan". The Apache was also recognised as having established a "limited maritime strike capability" and were being deployed on vessels such as HMS
Ocean
. On 17 May 2011, the Apache tested its Hellfire missiles against sea targets for the first time, 9 missiles were fired with a success rate of 100%. Speculation in the media has suggested that the speed on trialling and establishing an Apache maritime presence is due to the withdrawal of the British Aerospace Harrier II, as a
stopgap
replacement.
On 27 May 2011, military officials announced that Apaches would be deployed as part of
Operation Ellamy
Operation Ellamy
Operation Ellamy was the codename for the United Kingdom participation in the 2011 military intervention in Libya. The operation was part of an international coalition aimed at enforcing a Libyan no-fly zone in accordance with the United Nations Security Council Resolution 1973 which stipulated...
, the ongoing
military intervention in Libya
2011 military intervention in Libya
On 19 March 2011, a multi-state coalition began a military intervention in Libya to implement United Nations Security Council Resolution 1973, which was taken in response to events during the 2011 Libyan civil war...
. The helicopters operated from the flight deck of HMS
Ocean
in conjunction with French
Eurocopter Tiger
Eurocopter Tiger
The Eurocopter Tiger is an attack helicopter manufactured by Eurocopter. In Germany it is known as the Tiger; in France and Spain it is called the Tigre.-Origins:...
helicopters over Misrata. The Apaches were also to assist in
Operation Unified Protector
Operation Unified Protector
Operation Unified Protector was an NATO operation enforcing United Nations Security Council resolutions 1970 and 1973 concerning the 2011 Libyan civil war and adopted on 17 February and 17 March respectively...
, the enforcement of an embargo and no-fly zone upon Libya. On 14 June 2011, reports of British preparation to evacuate
Yemen
Yemen
The Republic of Yemen , commonly known as Yemen , is a country located in the Middle East, occupying the southwestern to southern end of the Arabian Peninsula. It is bordered by Saudi Arabia to the north, the Red Sea to the west, and Oman to the east....
emerged, involving Apache and Merlin helicopters operating from
Royal Fleet Auxiliary
Royal Fleet Auxiliary
The Royal Fleet Auxiliary is a civilian-manned fleet owned by the British Ministry of Defence. The RFA enables ships of the United Kingdom Royal Navy to maintain operations around the world. Its primary role is to supply the Royal Navy with fuel, ammunition and supplies, normally by replenishment...
vessels off the coast.
On 4 June 2011, Apaches struck targets within Libya for the first time, when both a radar site and an armed checkpoint were destroyed around the town of
Brega
Brega
Brega may refer to:*Brega , an inhabited location in Libya**Marsa Brega Airport, the airport for Brega-People:...
. Further precision air strikes were launched by Apaches, typical targets being mobile air defenses; occasionally the aircraft were engaged by
AK-47
AK-47
The AK-47 is a selective-fire, gas-operated 7.62×39mm assault rifle, first developed in the Soviet Union by Mikhail Kalashnikov. It is officially known as Avtomat Kalashnikova . It is also known as a Kalashnikov, an "AK", or in Russian slang, Kalash.Design work on the AK-47 began in the last year...
fire from ground troops. In early June, Apaches conducted attacks on Gaddafi loyalists assaulting the town of Misrata. On 13 June, British Apaches destroyed several inflatable boats with 30 mm cannon fire, believed to be Libyan Special Forces, before engaging and destroying multiple vehicles along the coastline, including an anti-aircraft system. On 25 June, in coordination with RAF
Panavia Tornado
Panavia Tornado
The Panavia Tornado is a family of twin-engine, variable-sweep wing combat aircraft, which was jointly developed and manufactured by the United Kingdom, West Germany and Italy...
strikes, Apaches attacked loyalist infantry and vehicles around
Brega
Brega
Brega may refer to:*Brega , an inhabited location in Libya**Marsa Brega Airport, the airport for Brega-People:...
and its airfield. On 1 July, it was reported that British Apaches were involved in a 'fierce' battle around the town of Khoms. On 2 July, Apaches raided a military camp near Zawiya, destroying several tanks and a bunker. One reason for increased Apache activity in late June was the temporary unavailability of the French aircraft carrier Charles de Gaulle, beset multiple times by rough seas which halted carrier operations. On 5 August, Apache participation in the rebel push for the town of
Zliten
Zliten
Zliten is a town in the Misrata District of Libya. It is located on the southern coast of the Mediterranean Sea west of the Gulf of Sidra. It was the capital of the former Zlitan District.-Location:...
was reported.
By 21 June 2011, the Libyan government had dubiously claimed to have been successful at shooting down dozens of aircraft, including five Apaches; NATO have denied these claims and no Apache losses have been acknowledged to date. On 8 July 2011, the MOD released information on the first month of AH-1 combat operations over Libya; noting that Apaches had engaged targets within Libya on 39 occasions. Apache operations over Libya have been heavily influenced and supported by NATO reconnaissance flights and intelligence missions; information is continually relayed to update target information, assess the threat of Surface to Air missiles (SAM), and the presence of civilians, enabling real time changes to mission profiles. On 6 August, Apaches struck a military communications facility and troops at Al Watiyah. Both the Apache and the
Eurofighter Typhoon
Eurofighter Typhoon
The Eurofighter Typhoon is a twin-engine, canard-delta wing, multirole combat aircraft, designed and built by a consortium of three companies: EADS, Alenia Aeronautica and BAE Systems; working through a holding company, Eurofighter GmbH, which was formed in 1986...
were withdrawn from Libyan operations in later September 2011 as operational demands decreased.
Operators
British Army

British Army

The British Army is the land warfare branch of Her Majesty's Armed Forces in the United Kingdom. It came into being with the unification of the Kingdom of England and Scotland into the Kingdom of Great Britain in 1707. The new British Army incorporated Regiments that had already existed in England...


Air Corps
Specifications (Apache AH1)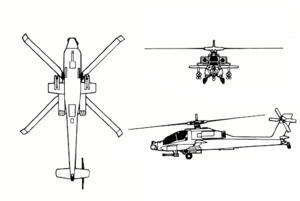 See also
Further reading
King, Anthony. "The Transformation of Europe's Armed Forces: From the Rhine to Afghanistan". Cambridge University Press, 2011. ISBN 0-52176-094-1.
Macy, Ed. "Hellfire". Harper Collins, 2010. ISBN 0-00728-820-4.
Madison, Charlotte. "Dressed to Kill", Headline Review, 2010. ISBN 0755319621.
Ryan, Mike. "Battlefield Afghanistan". Spellmount, 2007. ISBN 1-86227-390-1.
Thornton, Rod. "Asymmetric Warfare: Threat and Response in the Twenty-First Century". Polity, 2005. ISBN 0-74563-365-X.
External links