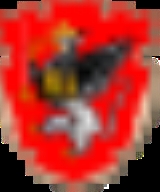 Wenden Voivodeship
Wenden Voivodeship
was a unit of administrative division and local government in the Duchy of Livonia, part of the
Polish-Lithuanian Commonwealth
Polish-Lithuanian Commonwealth
The Polish–Lithuanian Commonwealth was a dualistic state of Poland and Lithuania ruled by a common monarch. It was the largest and one of the most populous countries of 16th- and 17th‑century Europe with some and a multi-ethnic population of 11 million at its peak in the early 17th century...
, since it was formed in 1598 till the
Swedish
Swedish Empire
The Swedish Empire refers to the Kingdom of Sweden between 1561 and 1721 . During this time, Sweden was one of the great European powers. In Swedish, the period is called Stormaktstiden, literally meaning "the Great Power Era"...
conquest of Livonia in the 1620s. The remainder of Polish Livonia was named the Inflanty Voivodeship afterwards till
First Partition of Poland
Partitions of Poland
The Partitions of Poland or Partitions of the Polish–Lithuanian Commonwealth took place in the second half of the 18th century and ended the existence of the Polish–Lithuanian Commonwealth, resulting in the elimination of sovereign Poland for 123 years...
in 1772.
Voivodes of Wenden
The seat of the voivode was Wenden (
Cēsis
Cesis
Cēsis , is a town in Latvia located in the northern part of the Central Vidzeme Upland. Cēsis is on the Gauja River valley, and is built on a series of ridges above the river overlooking the woods below...
).
1598-1602 Jürgen von Farensbach

Jürgen von Farensbach

Jürgen von Farensbach was a Baltic German nobleman and Livonian general. Sent as the Ambassador of Livonian Confederation to Czar Ivan IV of Russia, for concluding a peace treaty, he entered the Russian service and won the battle on Oka against the Tatars on August 1, 1572...



1620-1622 Teodor Denhoff
1627-1641 Joachim Tarnowski
1641-1643 Tomasz Sapieha

Tomasz Sapieha

Tomasz Sapieha was a Polish-Lithuanian Commonwealth noble and politician. Voivode of Wenden , Voivode of Nowogródek .Son of Mikołaj Sapieha, brother of Kazimierz Mikołaj Sapieha....



1643-1648 Gerard Denhoff
(d. 1659) Nikolaus Korff