 Walkway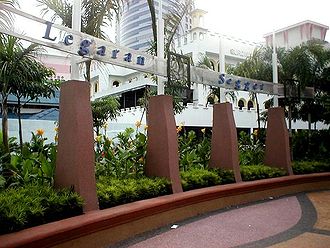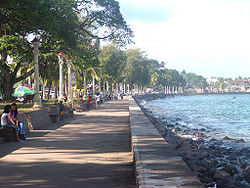 In US English, a
walkway
is a composite or umbrella term for all engineered surfaces or structures which support the use of trails. These include
sidewalk
Sidewalk
A sidewalk, or pavement, footpath, footway, and sometimes platform, is a path along the side of a road. A sidewalk may accommodate moderate changes in grade and is normally separated from the vehicular section by a curb...
s, footbridges,
stile
Stile
A stile is a structure which provides people a passage through or over a fence or boundary via steps, ladders, or narrow gaps. Stiles are often built in rural areas or along footpaths to allow access to an adjacent field or area separated by a fence, wall or hedge...
s,
stairs
Stairway
Stairway, staircase, stairwell, flight of stairs, or simply stairs are names for a construction designed to bridge a large vertical distance by dividing it into smaller vertical distances, called steps...
,
ramp
Inclined plane
The inclined plane is one of the original six simple machines; as the name suggests, it is a flat surface whose endpoints are at different heights. By moving an object up an inclined plane rather than completely vertical, the amount of force required is reduced, at the expense of increasing the...
s, paseos or
tunnel
Tunnel
A tunnel is an underground passageway, completely enclosed except for openings for egress, commonly at each end.A tunnel may be for foot or vehicular road traffic, for rail traffic, or for a canal. Some tunnels are aqueducts to supply water for consumption or for hydroelectric stations or are sewers...
s. Walkways can also be used by passengers to board or disembark from an
aircraft
Aircraft
An aircraft is a vehicle that is able to fly by gaining support from the air, or, in general, the atmosphere of a planet. An aircraft counters the force of gravity by using either static lift or by using the dynamic lift of an airfoil, or in a few cases the downward thrust from jet engines.Although...
to the
terminal
Airport terminal
An airport terminal is a building at an airport where passengers transfer between ground transportation and the facilities that allow them to board and disembark from aircraft....
building.
In UK English, walkway more specifically means a covered or raised passage in a building or a wide walk in a park or garden.
A walkway can be at ground level, elevated, such as a boardwalk, or floating. It can be a simple paved path or something more complex to cross a road or a body of water. An open
pedestrian overpass
Footbridge
A footbridge or pedestrian bridge is a bridge designed for pedestrians and in some cases cyclists, animal traffic and horse riders, rather than vehicular traffic. Footbridges complement the landscape and can be used decoratively to visually link two distinct areas or to signal a transaction...
or a special tunnel are also examples of walkways.
See also
Floating dock

Floating dock

A floating dock is a platform or ramp supported by pontoons. It is usually joined to the shore with a ramp that rests upon the dock on rollers, to adjust for the vertical movement of the dock...



Footpath

Footpath

A Footpath is a thoroughfare intended for by pedestrians but not by motorized vehicles. The term is often for paths within an urban area that offer shorter quieter routes for pedestrians, they may also provide access to the surrounding countryside or parks...



Oceanway

Gold Coast Oceanway

The Gold Coast Oceanway is a foreshoreway along beaches in Gold Coast, Queensland. The Gold Coast Oceanway is a shared use pedestrian and cyclist pathway on the Gold Coast, connecting the Point Danger lighthouse on the New South Wales and Queensland border to the Gold Coast Seaway...



Processional walkway

Processional walkway

A processional walkway is a ceremonial walkway in use since ancient times. Common functions of a processional walkway are for religious, governmental or celebratory purposes....



Promenade
Sidewalk

Sidewalk

A sidewalk, or pavement, footpath, footway, and sometimes platform, is a path along the side of a road. A sidewalk may accommodate moderate changes in grade and is normally separated from the vehicular section by a curb...



Skyway

Skyway

In an urban setting, a skyway, catwalk, sky bridge, or skywalk is a type of pedway consisting of an enclosed or covered bridge between two buildings. This protects pedestrians from the weather. These skyways are usually owned by businesses, and are therefore not public spaces...



Moving sidewalk