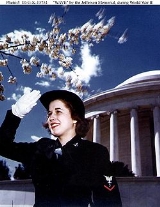 WAVES
The
WAVES
were a
World War II
World War II
World War II, or the Second World War , was a global conflict lasting from 1939 to 1945, involving most of the world's nations—including all of the great powers—eventually forming two opposing military alliances: the Allies and the Axis...
-era division of the
U.S. Navy
United States Navy
The United States Navy is the naval warfare service branch of the United States Armed Forces and one of the seven uniformed services of the United States. The U.S. Navy is the largest in the world; its battle fleet tonnage is greater than that of the next 13 largest navies combined. The U.S...
that consisted entirely of women. The name of this group is an acronym for "Women Accepted for Volunteer Emergency Service" (as well as an allusion to
ocean waves
Ocean surface wave
In fluid dynamics, wind waves or, more precisely, wind-generated waves are surface waves that occur on the free surface of oceans, seas, lakes, rivers, and canals or even on small puddles and ponds. They usually result from the wind blowing over a vast enough stretch of fluid surface. Waves in the...
); the word "emergency" implied that the acceptance of women was due to the unusual circumstances of the war and that at the end of the war the women would not be allowed to continue in Navy careers.